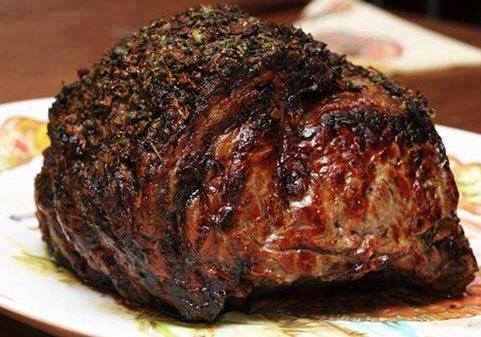 Prime rib claims center stage during holiday season for a very good reason. It is the king of beef cuts.
It's called a standing rib roast because to cook it, you position the roast majestically on its rib bones in the roasting pan.
Beautifully marbled with fat, this roast is rich, juicy, and tender—a feast for the eyes and the belly.
It's also very easy to cook. You just start it in the oven at a high temperature to get good browning on the outside of the roast, and then cook it at a lower temperature to make sure the meat in the center doesn't get over cooked.
Ingredients :
1prime rib roast with or without bone (any size)
Garlic powder
Salt
Pepper
How To Make Best Ever Prime Rib
Preheat oven to 550F degrees.
Make a rub of salt, pepper and garlic powder and apply to meat. Place meat in a shallow roasting pan fat side up.
Roast at 550 at 5 minutes per pound for RARE, or 6 minutes per pound for MEDIUM and 7 minutes per pound for WELL DONE.
CLICK NEXT PAGE BELOW TO CONTINUE READING …