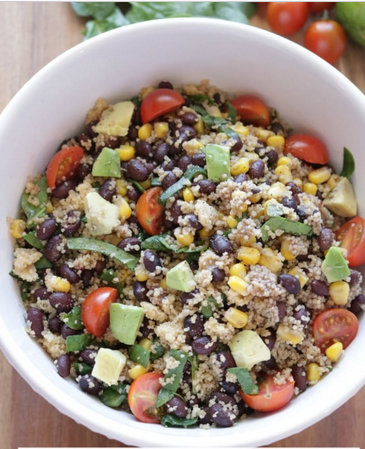 source: yellowblissroad.com
This black bean couscous salad is made with a variety of vegetables and served with a cilantro-lime dressing.
Easy Black Bean Couscous Salad
Looking for an easy-to-prepare salad for a party or a weeknight meal? This Black Bean Couscous Salad is delicious and packed with vegetables.
The beans are full of fiber and the vegetables are full of nutrients. This simple couscous salad is perfect for any occasion.
Main Ingredients
Israeli couscous: I prefer Israeli couscous because it is larger and chewier than regular couscous.
Corn: Fresh corn is used. Canned or frozen corn can also be used.
Spices: paprika and garlic powder add a southwestern flavor to this couscous salad.
Black beans: black beans add fiber and protein to this salad.
Onions: any type of onion can be used.
Bell peppers: bell peppers add crunch and vegetables to this salad.
Cotija cheese: cheese is a must in every salad!
Salad Dressing.
A delicious cilantro-lime dressing makes this dish even better. Ingredients needed include.
Lime juice
White wine vinegar
Hummus
cilantro
Horseradish
Chili powder
Chili powder
Salt
Easy to make
Boil and cool couscous: Bring water to a boil. Add couscous and reduce heat. Cover and simmer for 12 minutes. Place couscous in a large dish and flatten. Make the rest of the salad while refrigerating.
Spread corn : on a tray and drizzle with avocado oil. Season with chili powder, garlic powder and salt. Bake for 5-7 minutes, stirring occasionally.
Mix toppings: Mix black beans, vegetables, lime, cilantro, cheese and chilled couscous.
Make dressing: combine all dressing ingredients in a mason jar or bowl and mix well,
Make the salad: Pour the dressing over the couscous salad and mix well,
Storage
Ineatable couscous salad can be stored in an airtight container in the refrigerator for 3-5 days.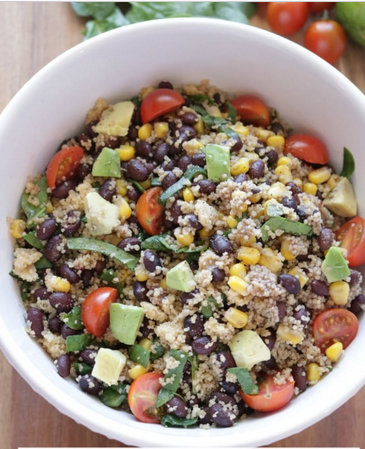 source: yellowblissroad.com
This Black Bean Couscous Salad recipe is a delicious vegetarian dish or side dish made with Israeli couscous, lots of vegetables, black beans, and cilantro-lime dressing.
Prep:20 minutes minutes
Cook:10 minutes minutes
Total:30 minutes minutes
Ingredients
For the Salad
1.25 cups Israeli couscous
1.5 cups water
2 cups sweet corn we used 3 ears of fresh corn, but you can use thawed,frozen corn
2 teaspoons avocado oil
1 teaspoon chili powder
1 teaspoon garlic powder
1/4 teaspoon salt
15 oz. can black beans drained and rinsed
1.5 cups cherry tomatoes cut into fourths
1/2 small red onion finely diced
1 large green bell pepper diced
1/2 cup fresh cilantro roughly chopped
1/3 cup cotija cheese crumbled (+more for topping)
For the Dressing
3 tablespoons lime juice
1.5 tablespoon white wine vinegar or rice vinegar
3 cloves garlic minced
3 tablespoons garlic hummus
2 tablespoon fresh cilantro chopped
2 teaspoon honey
1/2 teaspoon chili powder
1/4 teaspoon paprika
3/4 teaspoons salt
Instructions 
Bring 1.5 cups of water to a rolling boil. Add in couscous and turn to heat to low. Cover the pot and simmer until all water is absorbed (about 10-12 minutes). Fluff the couscous with a fork and if there is no excess liquid the couscous is ready.
Spread the couscous out onto a large plate or a small platter and place the couscous into the refrigerator or freezer to chill.
While the couscous is chilling, turn the oven to broil and place the corn onto a baking sheet. Drizzle the avocado oil over the corn and then season with chili powder, garlic powder, and salt. Toss until the corn is coated and place into the oven. Broil the corn for 5-7 minutes, tossing periodically. Remove the corn from the oven when it begins to brown and caramelize.
Add the corn, black beans, cherry tomatoes, red onion, bell pepper, lime zest, cilantro, cotija cheese, and cooled couscous to a large bowl and mix until combined. Set aside.
Add all of the ingredients for the dressing to a mason jar and cover. Shake the ingredients together until combined.
Pour the dressing over the couscous and other ingredients. Toss all the of the ingredients with the dressing until everything is coated in dressing. Top with any additional cotija cheese and enjoy.