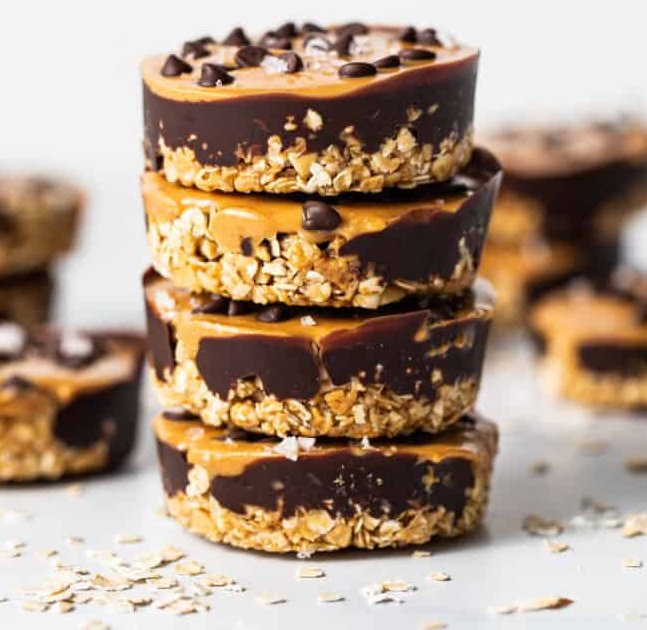 source : fitfoodiefinds.com
Peanut Butter Oatmeal Cups, the most delicious no-bake dessert you've ever had! We love no-bake desserts because they're oven-free and quick and easy to make.
Scroll to the bottom of this post (after the recipe card) to see our Instagram recipe for oatmeal cups!
Best No-Bake Desserts
Chocolate and peanut butter fans, we're excited to introduce you to our newest no-bake dessert – Chocolate Peanut Butter Oatmeal Cups.
If you're looking to make dessert without an oven, these delicious cups are the answer. No oven desserts are perfect for when you're in a hurry or don't want to heat up the house!
Why we love no-bake desserts
Quick (no baking time required)
Easy to make
Nutritious desserts
needed
This peanut butter chocolate dessert consists of three different layers. Each bite has three different flavors.
Oatmeal Layer
Oatmeal
Honey
Peanut Butter
Peanut
Peanut Butter Layer
Peanut Butter
Coconut oil
Mini Chocolate Chips
Chocolate Layer
Dark Chocolate
Coconut oil
Is this recipe gluten free?
All of the ingredients in this recipe are gluten free. Please be sure to read the labels on the ingredients when purchasing to ensure that they are made in a gluten-free facility.
Is this dessert healthy?
This recipe is made with whole wheat flour and natural sugar for a nutritious dessert.
Can I use mini muffin molds?
Use mini muffin molds instead of regular muffin molds. You can almost double or triple the amount.
Variations
Replace nut butter: no peanuts? Use almond or cashew butter instead and swap out the peanuts.
Add flavorings: a little vanilla or almond extract is very tasty.
Adding the following flavorings is also delicious
Use dried fruits: substitute dried fruits like strawberries, raisins or blueberries for mini M&Ms.
Storage
Chocolate Peanut Butter No-Bake Cookies should always be kept in the freezer of the refrigerator. If left on the counter, they will get too hot and crumble like melted snowballs.
No-Bake Peanut Butter Oat Cups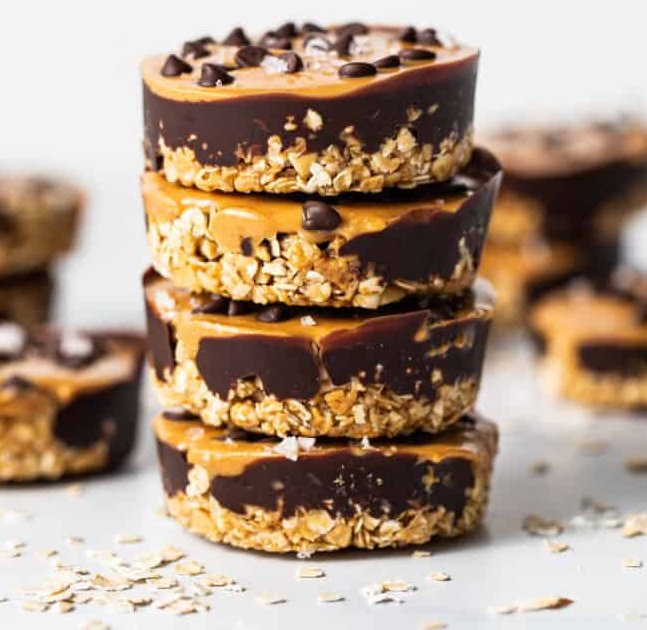 source : fitfoodiefinds.com
This delicious no bake dessert is made with 3 layers creating the most delicious peanut butter chocoalte oat cups.
Prep:35 minutes minutes
Cook:0 minutes minutes
Total:35 minutes minutes
Ingredients
Oat Layer
2 cups quick-cooking oats
½ cup honey
⅓ cup all-natural, creamy peanut butter
⅓ cup chopped peanuts
Optional: 1-2 teaspoons water
Chocolate Layer
6 oz. dark chocolate chopped
2 teaspoons coconut oil
Peanut Butter Layer
½ cup all-natural, creamy peanut butter
1 teaspoon coconut oil
¼ cup mini chocolate chips
Instructions 
Line a metal muffin pan with paper liners or use a silicon muffin pan (no need to line the silicone pan).
First, make the oat layer. Add the quick-cooking oats, honey, peanut butter, and peanuts to a bowl and stir all of the ingredients together until combined. If it seems dry, add 1 to 2 teaspoons of water. Scoop about 2 tablespoons of the oats into the bottom of each muffin cup and firmly press them into the cup.
Next, mix the chocolate layer. Transfer the chocolate and coconut oil into a microwave-safe bowl. Heat the chocolate on high for 20-second increments until the chocolate is melted. Be sure to stir the chocolate and coconut oil in between each increment.
Scoop 2 teaspoons of the melted chocolate and add it on top of the oat layer. Swirl the muffin pan in a circle to easily distribute the chocolate over the oats. If there is any melted chocolate left in the bowl evenly distribute the chocolate into each cup. Place the muffin pan in the freezer for 5 minutes.
Finally, make the peanut butter layer. Add the creamy peanut butter and coconut oil into a separate microwave-safe bowl and microwave the mixture for 15 seconds. Stir until well combined. Add 2 teaspoons of the peanut butter mixture to the top of the chocolate layer. Swirl the pan again to even out the peanut butter. Then, add mini chocolate chips to the top of each cup.
Place the muffin tin in the freezer for at least 30 minutes to an hour to set.
When the oat cups have set remove them from the muffin pan and transfer them into a freezer bag and store the oat cups in the freezer.
Tips & Notes
We used chopped chocolate pieces, but feel free to use chocolate chips. Use a kitchen scale to weigh the chocolate chips.
If you don't like dark chocolate you can use milk chocolate instead.
We do not recommend using rolled oats. Old-fs rolled oats are would be too tough in these oats.
Be sure you let the oat cups set and firm up long enough before storing them in the freezer.
Nutrition facts
Calories: 311kcal Carbohydrates: 30g Protein: 7g Fat: 20g Fiber: 4g Sugar: 19g