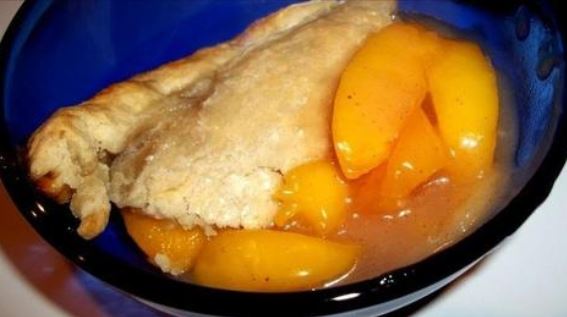 This is my husband's absolute favorite dessert. It's also my own recipe. He has requested it for his birthday for the past 26 years. His Granny always made hers this way, so I had to learn to make mine like he was used to.
To me, it's a lot like a peach pie, but he says no…lol! I normally make this in a deep oval casserole dish. Hub says his Granny would be so proud of my rendition to a family favorite! In my opinion, the crust on this cobbler makes it… it melts in your mouth. Yum!
An old-fashioned cobbler just like Grandma used to make. It's not one of those dump and go recipes. This one is made with love. The beauty of a cobbler is the crust doesn't have to be perfect like a pie and the double crust gives the cobbler an old-timey feel. Once you break through the flaky crust, the filling is full of sweet peaches and spices. Serve with a big scoop of ice cream for a delicious summer dessert.
SERVES 6 – 8
PREP TIME 10 Min
COOK TIME 45 Min
METHOD Bake
Ingredients :
CRUST
2 1/2 call-purpose flour
3 Tbspsugar
1/4 cshortening (cold) i always use crisco
12 Tbspbutter, sliced and cold
1/4 tspsalt
1/4 – 1/2 cice water
FILLING
10ripe peaches, peeled, pitted, and cut into 1/4-inch thick slices (if peaches are out of season, use thawed and drained frozen peaches, i used 3 – 16 oz bags)
1 csugar
1 cwater
1/4 cbutter
1/4 tspnutmeg
1/4 tspcinnamon
pinchsalt
3 – 4 Tbspall-purpose flour
How To Make it :
1Make the crust and chill for 30 minutes. Sift the flour, salt, and sugar.
2Add flour mixture to food processor; add the shortening, pulse about 6 times. Add the cold butter, pulse 5 – 6 times. The mixture should look like gravel.
3Then add the water, a little at a time.
4Pulse until a ball forms.
5Cut dough in half. Wrap each half in plastic wrap and chill for 30 minutes.
6Filling: Melt butter in a med-large saucepan over medium heat. Add the sugar and water and cook until sugar is dissolved. Add nutmeg, salt, peaches, cinnamon, and flour.
7Cook for 5 minutes or until thickened. Set aside to cool.
8Assemble: Preheat oven to 375 degree F. Spray a 9 x 13 baking dish with non-stick cooking spray.
9Once the dough is chilled, remove it from the refrigerator and roll each disk into a 9-inch square approximately 1/4-inch thick. Place into a 9 x 13 sprayed baking dish. I used my fingers to press into place. Bring up on the sides of the dish about an inch.
10Pour the cooled filling into the crust.
11Roll out the top crust; place over the filling (I roll the dough onto my rolling pin, then roll onto filling). It does not have to be perfect. I cut 4 – 6 slits to vent. I brush the top with heavy cream and sprinkle it with sugar but this is optional.
12Bake until the crust is golden brown and the juices are bubbly (about 45 minutes). Let cool for at least 30 minutes before cutting and serving.
13Enjoy! This is also great served with a scoop of ice cream.