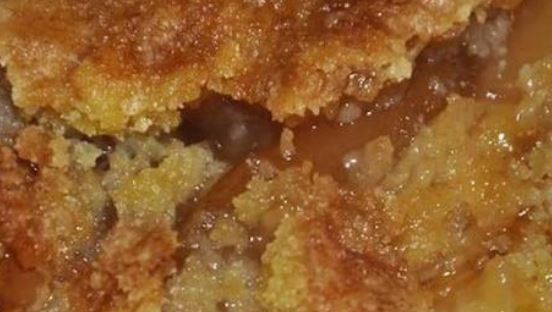 Caramel Apple Dump Cake is the perfect amount of gooey caramel and scrumptious apple filling covered with a soft buttery crunch topping. 
2 cans of apple pie filling (you can also use cherry, blueberry, etc.)
•1 box of yellow cake mix
•2 sticks of butter, melted (1 cup)
•1/2 cup caramel sauce (like you would put on ice cream)
•1/2 tsp cinnamon (optional)
•1/2 cup chopped pecans (optional)
•Whipped cream for garnish (optional)
INGREDIENTS :
▢1 yellow cake mix
▢2 cans apple pie filling, (21 ounce cans)
▢½ cup caramel sauce or topping
▢2 sticks butter, melted or sliced
INSTRUCTIONS  :
Oven Baked Caramel Apple Dump Cake
Preheat oven to 350 degrees.
In a 9 x 13 Baking Dish.
Spoon cans of apple pie filling in bottom of dish
Pour caramel evenly on top of pie filling.
Sprinkle cake mix on top.
Place thinly sliced pats of butter evenly on top of cake mix. You can also melt the butter and drizzle it on top, if desired
Bake in 350 degree oven for 50 to 60 minutes.
Serve with a scoop of vanilla or your favorite ice cream!
Slow Cooker Caramel Apple Dump Cake Instructions
Spray a 6 quart oval or oblong slow cooker crock.
Layer as above instructions indicate.
Place lid on slow cooker. If desired, place paper towels or a tea towel underneath the lid not touching the cake top to catch water droplets that may form on lid.
Cook on high for 2 hours or low for 4 hours.
NUTRITION :
Serving: 1 g Calories: 359 kcal Carbohydrates: 52 g Protein: 2 g Fat: 17 g Saturated Fat: 10 g Polyunsaturated Fat: 5 g Trans Fat: 1 g Cholesterol: 40 mg Sodium: 501 mg Fiber: 1 g Sugar: 34 g