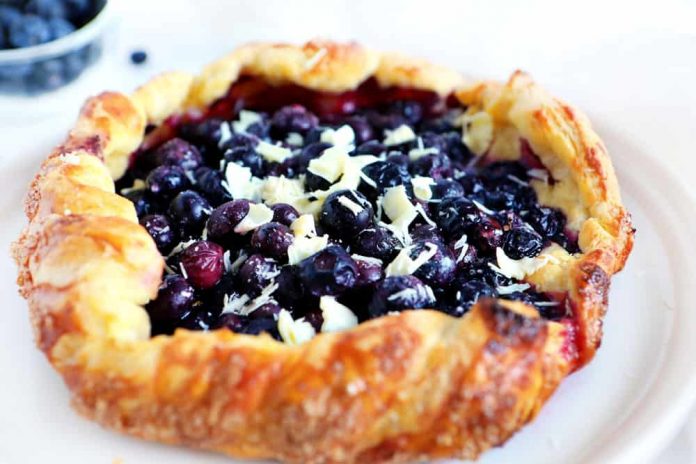 PREP TIME : 5 MINS
COOK TIME : 25 MINS
COOLING TIME : 10 MINS
TOTAL TIME : 38 MINS
A simple, rustic dessert that is always satisfying!
COURSE: DESSERT
CUISINE: AMERICAN
KEYWORD: BLUEBERRY DESSERT, BLUEBERRY GALETTE, GALETTE
INGREDIENTS
1 layer frozen puff pastry, thawed
1/2 cup (100g) granulated sugar
1 teaspoon cornstarch
1 cup fresh blueberries
1 tablespoon lemon juice, fresh squeezed
1 small egg, for brushing on pastry
raw sugar (or turbinado)
shaved white chocolate, for garnish
INSTRUCTIONS
Heat oven to 375°F.
Unwrap one layer of puff pastry and place on a piece of parchment paper that is on a baking sheet. Trim off corners (if you want).
In a bowl, add sugar and cornstarch and sift together with a fork or whisk. Add in the blueberries and lemon juice and stir to coat.
CLICK NEXT PAGE BELOW TO CONTINUE READING …