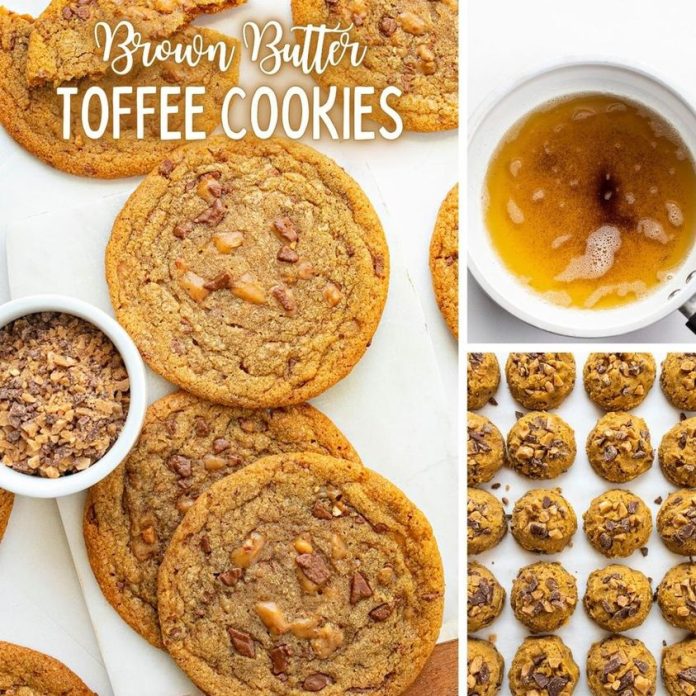 Browned Butter Caramel Cookies are soft cookies with crispy edges, made with browned butter and filled with Heath milk chocolate and English toffee bits.
PREP TIME : 25 MINS
COOK TIME : 10 MINS
TOTAL TIME : 35 MINS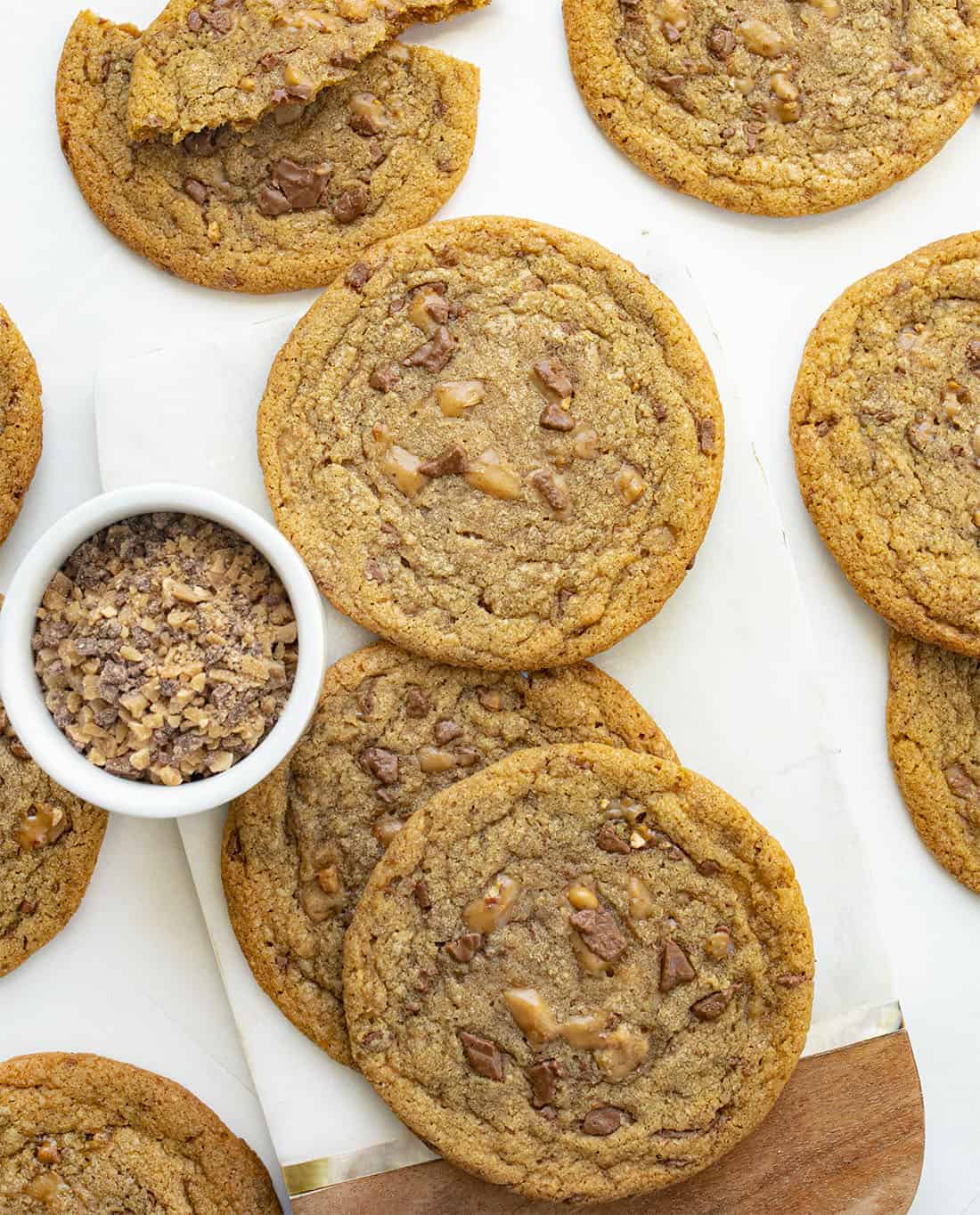 Ingredients
▢14 tablespoons (1¾ sticks / 198 g) unsalted butter, divided
▢¾ cup (150 g) dark brown sugar, packed
▢½ cup (100 g) granulated sugar
▢1 teaspoon kosher salt
▢2 teaspoons vanilla extract
▢1 large egg, room temperature
▢1 large egg yolk, room temperature
▢1¾ cups (219 g) all-purpose flour
▢½ teaspoon baking soda
▢1 bag (8 ounces) Heath Milk Chocolate English Toffee bits, approximately 1½ cups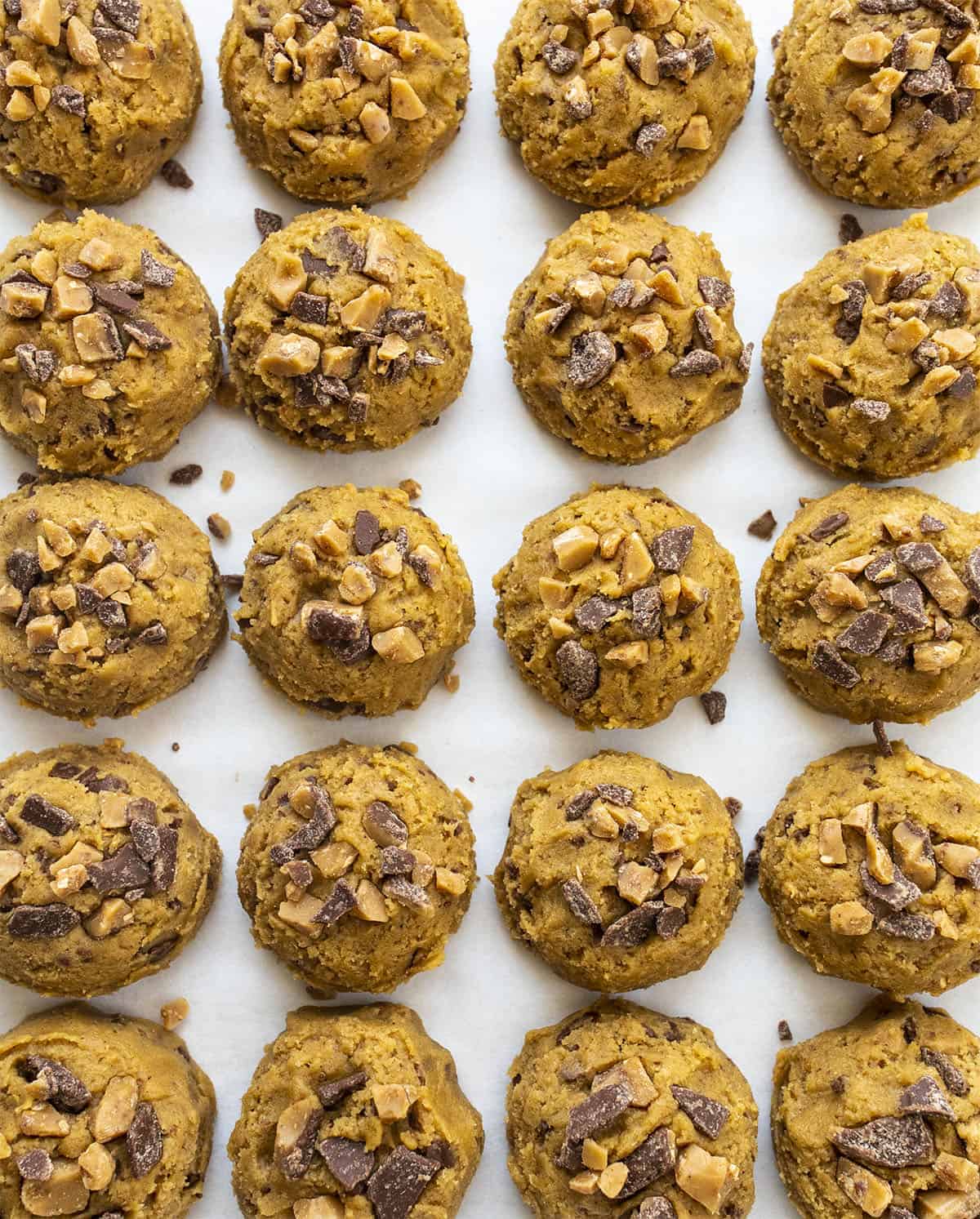 Instructions
Preheat the oven to 375°F. Prepare two baking sheets by lining each with parchment paper. Set aside.
In a stainless steel skillet (or another light-bottomed pan) over medium-high heat, melt 10 tablespoons of butter, swirling the pan occasionally. The butter will begin to foam, which signals the water in the butter is boiling off – watch closely at this stage. Tiny brown specs of milk solids will begin to appear at the bottom of the pan – constantly stir and scrape these off using a spatula so they don't stick. As soon as the butter turns chestnut brown and smells nutty, remove the pan from the heat.
Pour the browned butter into a large, heat-safe bowl, making sure to get all the browned bits. Then, add the remaining 4 tablespoons of butter to the bowl, stirring until the butter is completely melted.
To the browned butter, add dark brown sugar, granulated sugar, salt, and vanilla. Whisk until the ingredients are fully incorporated.
Next, whisk in the egg and egg yolk for 30 seconds, or until there are no lumps. Then, set a timer for 3 minutes before whisking another 30 seconds. Start the 3-minute timer again, whisking for 30 seconds after that. Repeat the 30-seconds on (mixing), 3 minutes off, a total of FOUR times. The dough will be a beautiful dark golden toffee color. (On one of the three minutes 'off', you could mix together the flour and baking soda.)
In a medium bowl, add flour and baking soda. Whisk to combine and add this to the browned butter mixture, mixing until just combined.
Finally, fold in the chocolate and toffee bits, reserving a few for the tops of the cookies, if desired.
Using a 3 tablespoon scoop, portion cookies and place on the parchment-lined baking sheets. Leave about 2 inches between each cookie. Top with a few reserved chocolate and toffee chips, if adding.
Bake each sheet of cookies separately for 10-14 minutes, depending on the size of your cookies. Remove from the oven and let cool completely before serving.
Nutrition
Course: Dessert, Snack
Keyword: Browned Butter Toffee Cookies
Servings: 16 cookies
Calories: 284