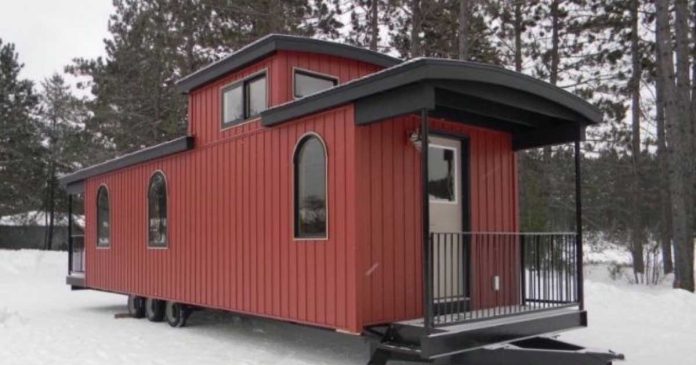 I've seen some pretty cool tiny homes, but this one might just be the best. This beautiful tiny home built by North Park Homes & Cabins of Minocqua, Wisconsin was designed to look like an old train caboose, and the interior is just as impressive as the exterior.
The visionary and owner of this caboose is a retired railroad engineer who built this little house with the intention of filling it with railroad memorabilia that he has collected over the years. Like traditional railroad cars, this little house has two entrances: one at each end of the caboose.
Art Deco style windows appear throughout the tiny house and are reminiscent of those found in train stations at the time. Wooden walls, beautiful wainscoting and pressed tin ceilings are just a few of the many unique design features present in this tiny house. Another notable unique aspect of this home? For such a small space, it even features a railroad car-inspired hallway.
There is even a small staircase that leads to the loft-style bedrooms. There are also art deco style ceiling lights throughout the tiny house, which you could certainly imagine in a railroad car from the past. Every aspect of this home is beautiful and thoughtful, from the arts and crafts to the decorating choices. It's rare to see a home (let alone a tiny house) that so accurately reflects the person who lives there, but this one does just that.