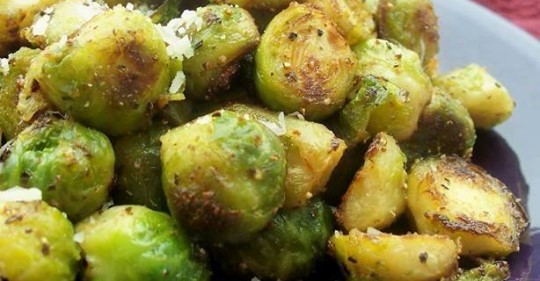 Yummy, Please make sure to Like and share this Recipe with your friends on Facebook and also follow us on facebook and Pinterest to get our latest Yummy Recipes.
Roasted Brussels Sprouts are fast and easy to prepare for a fresh green addition to your dinner. These Brussels sprouts are coated with a simple garlic butter and roasted in the oven.
BRUSSELS SPROUTS
Brussels sprouts are one of those vegetables that people either love or hate. These little sprouts look and taste a bit like tiny cabbage. They are quite versatile in flavors they can be mixed with and ways to cook them.
Personally, I love Brussels sprouts, especially if they are a little crunchy and coated with something tasty. One way to enjoy crunchy Brussels sprouts is by slicing them thinly and making a fresh salad. Another way is to cook them a little less so they retain some crunch.
When I roast Brussels sprouts, I cook it enough where they are still a bit crunchy.
Brussels sprouts can be mix with many different flavors. Make them a little sweet with honey and butter. You can make them tangy with some Balsamic vinegar and oil. Or, flavor them with simple garlic butter for aromatic, amazing tasting veggies.
To Make this Recipe You'Il Need the following ingredients:
Ingredients:
15 Brussels sprouts, halved lengthwise
1 1/2 tablespoons butter
1 1/2 tablespoons olive oil
3 cloves garlic, smashed with the flat of a knife
freshly grated parmesan cheese (optional)
salt and pepper
Directions:
Click Next Button Bellow for Full Recipe…