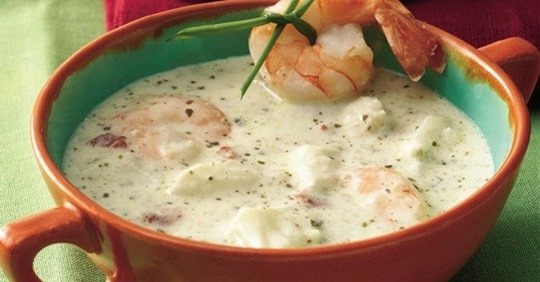 Yummy, Please make sure to Like and share this Recipe with your friends on Facebook and also follow us on facebook and Pinterest to get our latest Yummy Recipes.
If you're a purist, you know that a true bisque is a seafood soup, but it is often used to describe any creamy soup. The soup is French, but the origin of the word "bisque" it is not clear. It might be derived from Biscay, as in The Bay of Biscay, a gulf which lies off the west coast of Europe, bordering Western France and Northern Spain.
This seafood bisque is made with crab and shrimp, but you may choose to substitute another seafood or add a third, such as lobster, scallops, or firm, flaked fish.
The soup is super easy to prepare and cook, and it's ready in 15 minutes. Serve with freshly baked biscuits or crusty bread. If it's a lunch or main course soup, add a salad.
To Make this Recipe You'Il Need the following ingredients:
Ingredients:
3 tablespoons butter
2 tablespoons chopped green onion
2 tablespoons chopped celery
3 tablespoons all-purpose flour
2 1/2 cups milk
1/2 teaspoon freshly ground black pepper
1 tablespoon tomato paste
1 cup heavy whipping cream
8 ounces crab meat
4 to 8 ounces small cooked shrimp or other seafood
2 tablespoon sherry win
Directions:
Click Next Button Bellow for Full Recipe…