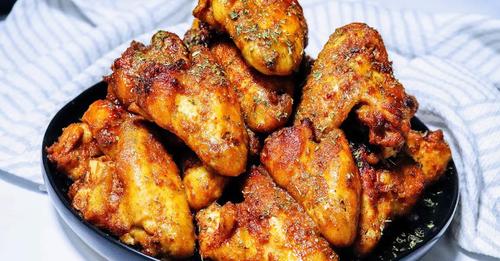 These wings are simple, quick, easy, and good.
SERVES : 4
PREP TIME : 15 Min
COOK TIME : 1 Hr
METHOD : Bake
Ingredients For Butter Baked Chicken Wings, Iris
12 mdchicken wings, tips on or off
3 Tbsponion powder
3 Tbspgarlic powder
2 tspblack pepper
2 Tbsppaprika, can be generous
chicken base
1/2 stickbutter
How To Make Butter Baked Chicken Wings, Iris
1– Rinse the wings and pat dry.
2– Sprinkle wings with all dry ingredients.
3– Spray baking dish with olive oil.
4– Place wings in the dish.
5– Cut butter into cubes over chicken pieces.
6– Cover with foil and bake at 350 for 35-40 minutes.
7– Remove the foil and baste the wings.
8– Turn the temperature up to 500 and allow them to brown and crisp, 10 minutes. Serve.