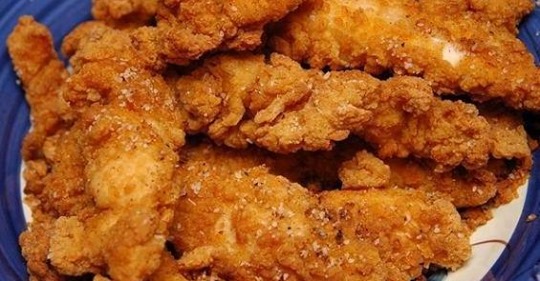 Fried chicken is one of my biggest weaknesses, so naturally I've been perfecting this lighter version for years. I've managed to achieve the same crispy golden texture you get from frying from my oven.
Yep, it's skinnier, easier, quicker, and (bonus) there's no greasy mess to clean up. Soaking the chicken overnight (sometimes two nights) in a buttermilk bath is a must for meat that's moist and juicy. To easily remove the skin from the drumsticks, use one paper towel to grasp the joint end and a second one to pull off the skin.
This Oven Fried Chicken is baked in the oven, yet still has so much flavor and a satisfying crunch! 
I've tried a lot of oven fried chicken recipes using a variety of crunchy coatings, and this is the only one I've made again and again.
The recipe comes from my friend Gina Homolka, in her book the Skinnytaste Cookbook, and it's the best buttermilk oven fried chicken I've ever tried.
A lot of skinny recipes tend to lack flavor, but not this one. Soaking the chicken in buttermilk gives a great tangy flavor and also keeps the meat juicy.
There are also lots of spices to keep things flavorful, and a combo of panko and cornflakes on the outside for crunch.
While Gina's recipe calls for using drumsticks, I have tried this over the years with other cuts, and had success with breasts and thighs too.
Just make sure to adjust cook times as necessary, especially since white meat tends to be less forgiving than the darker cuts like drumsticks or thighs.
HOW TO MAKE OVEN FRIED CHICKEN:
To get the chicken started, season skinless chicken drumsticks with a mixture of salt, pepper, paprika, poultry seasoning (I used thyme), and garlic powder:
Click Next Button Bellow for Full Recipe…