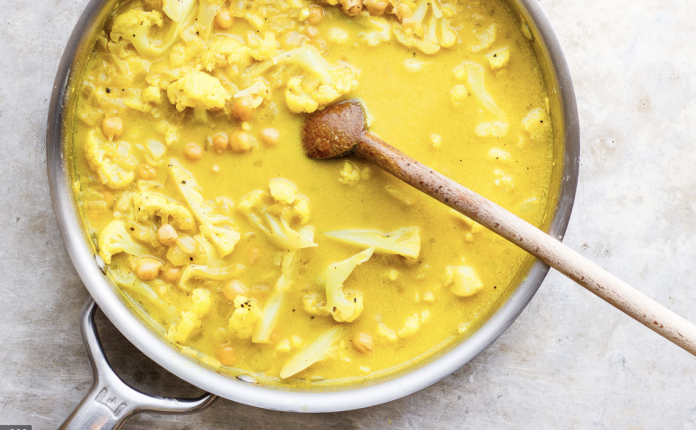 I remember growing up, I used to love my grandmother's cooking, she always surprised me with her chef like talents, but the one meal she nailed more than anything else is the stew. I fell in love with her stew the first time I tasted it. Unfortunately, she passed away and I do miss her and her cooking. I was once looking for some stew recipes and I found this one, it reminded me of my childhood memories and most importantly, my beloved grandmother. Here is the proper way to make cauliflower, coconut oil, ginger, and turmeric stew.
First, you are going to need:
Ingredients
2 teaspoons ginger paste
2 tablespoons coconut oil
1 teaspoon cumin seeds
1 teaspoon turmeric powder
1 teaspoon of sea salt
2 tablespoons chopped cilantro
1 tablespoon coriander powder
1 tablespoon cumin powder
3 ripe tomatoes, finely chopped
1 jalapeno, stemmed, seeded, chopped
1 can full-fat unsweetened coconut milk
1 cup chopped kale
1 medium head cauliflower, stemmed and cut into bite-size florets
1 medium onion, finely chopped
Follow these easy directions to make the tasty stew.
Directions
heat the coconut oil for 30 secs on medium heat in a medium stockpot
Add in cumin seeds and start stirring until they begin sputtering. Add in onions and start cooking for a minute
 Add in tomatoes and start stirring while cooking for a couple more minutes until the tomatoes become soft
Now, add all of the remaining ingredients and start stirring, then cover the pan and simmer for 15 minutes while stirring once every 5 minutes to prevent any kind of burns
Now, serve and enjoy.
This stew offers:
0 mg of cholesterol
6 g of fiber
6 g of protein
18 g of carbohydrate
204 calories
24 g of fat
588 mg of sodium
20 g of saturated fat