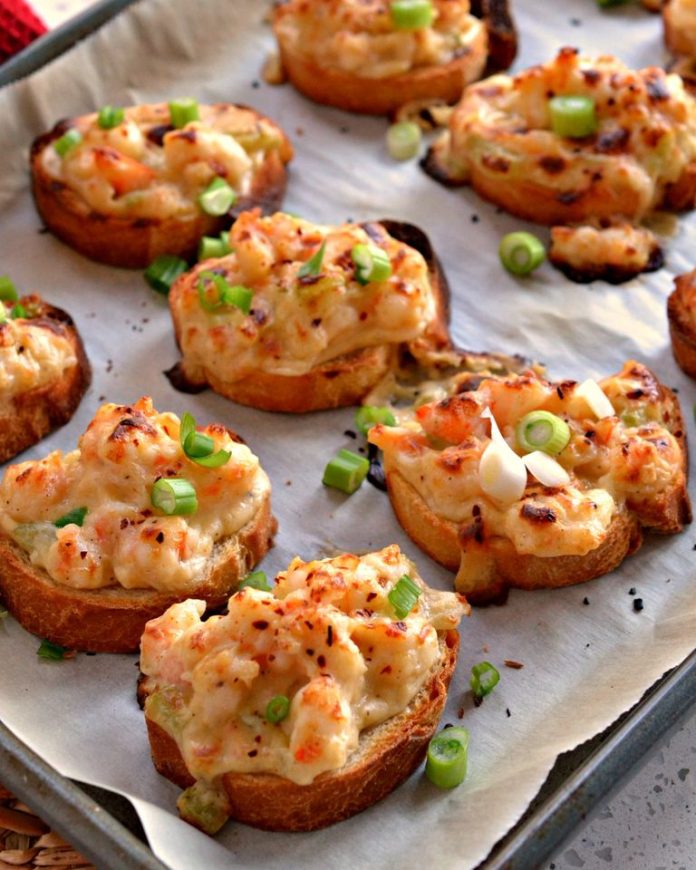 Prep Time: 5 minutes
Cook Time: 20 minutes
Total Time: 25 minutes
Yield: 12 toasts
Category: Appetizer
Method: Stovetop
Cuisine: Southern
Ingredients:
1 small French baguette, sliced into 1/2-inch thick pieces
1 tablespoon olive oil
1 lb shrimp, peeled, deveined, and minced
1/2 small onion, finely chopped
1 stalk celery, finely chopped
3 cloves garlic, minced
1/4–1/2 teaspoon Cajun seasoning
1/4 teaspoon fresh cracked black pepper
4 ounces cream cheese, cut into small cubes
1/4 cup shaved Parmesan cheese
1/4 cup shaved Fontina cheese
Kosher salt and fresh ground black pepper
1/4 teaspoon crushed red pepper
1 green onion, thinly sliced
Instructions:
Prepare Baguette Slices: Turn the broiler to low. Arrange the bread slices on a baking sheet in a single layer. Broil for 3-5 minutes until lightly browned. Flip the slices and broil the other side until lightly browned.
Sauté Shrimp Mixture: In a skillet, heat olive oil over medium heat. Add shrimp, onion, and celery. Cook for 1 minute, stirring frequently. Add garlic, Cajun seasoning, and black pepper. Cook for an additional minute, stirring constantly. Reduce heat to very low.
Cheesy Blend: Add cream cheese, Parmesan, and Fontina. Stir until the cheese is blended and almost fully melted. Season with kosher salt and fresh ground black pepper.
Assemble and Bake: Evenly top the toasted baguette slices with the shrimp mixture. Sprinkle with crushed red pepper. Place in a 400-degree oven for 10 minutes or until lightly browned and bubbly.
Finish with Freshness: Sprinkle green onions over the baked shrimp toasts. Serve immediately.
Notes:
Broil on low to control the process; monitor the baguette slices closely.
Opt for high-quality wild-caught shrimp; thaw frozen shrimp in advance.
Peel shrimp carefully, and remove the black intestine under cool running water.
Keep ingredients close during the quick recipe execution to avoid overcooking the shrimp.
If pre-shaved Fontina and Parmesan are unavailable, use a vegetable peeler on a block of cheese.
Indulge in the exquisite blend of Cajun-spiced shrimp and creamy cheeses on perfectly toasted baguette slices, creating Cajun Shrimp Fusion Toasts that showcase the best of Southern cuisine.
conclusion :
In the grand symphony of Southern flavors, our Cajun Shrimp Fusion Toasts take center stage as a culinary masterpiece. With a harmonious blend of Cajun-spiced shrimp, velvety cream cheese, and the rich undertones of Parmesan and Fontina, these toasts deliver an extraordinary sensory experience. The marriage of textures, from the crispiness of perfectly toasted baguette slices to the succulent tenderness of the shrimp, creates a delightful journey for the palate.
As the bubbly, golden-brown perfection emerges from the oven, adorned with a sprinkle of green onions, it signals the culmination of a culinary adventure. These toasts not only celebrate the vibrant and diverse flavors of the South but also embody the spirit of effortless elegance in entertaining. Whether shared among friends or savored as a solo indulgence, our Cajun Shrimp Fusion Toasts are a testament to the joys of creative cooking.
So, let these toasts be more than a delightful appetizer; let them be a catalyst for memorable moments shared around the table. Elevate your gatherings, spark conversations, and relish the satisfaction of creating a dish that transcends the ordinary. With each bite, savor the fusion of tradition and innovation that makes these toasts a truly unique and gratifying experience. Cheers to good company, good food, and the joy of culinary exploration!
source of the picture : small town woman