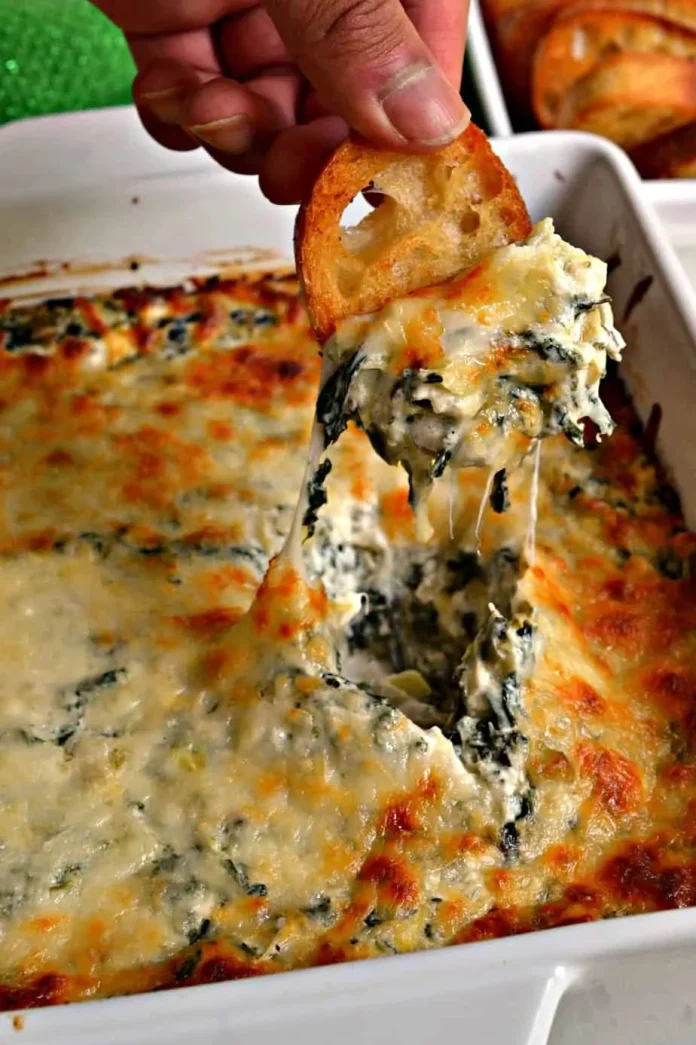 Elevate your appetizer game with our "Sizzling Spinach Artichoke Symphony." This hot dip recipe is not just a crowd-pleaser; it's a flavorful journey that unfolds in less than ten minutes of prep time. Versatile enough to complement an array of dippables, from carrot sticks to crostini, this Italian-inspired creation is a testament to the ease of culinary indulgence.
Recipe:
Ingredients:
2 cloves garlic, minced
1 (8-ounce) box cream cheese, softened to room temperature
1/3 cup mayonnaise
1/3 cup sour cream
1/2 cup grated Parmesan cheese
1 1/2 cups shredded mozzarella cheese
1 (14-ounce) can artichoke hearts, drained and chopped
10 ounces frozen spinach, thawed, drained, and chopped
1/2 teaspoon kosher salt
1/2 teaspoon fresh ground black pepper
Instructions:
Preheat the oven to 375 degrees and grease a small baking dish.
In a medium bowl, blend together garlic, softened cream cheese, mayonnaise, sour cream, Parmesan, 1/2 cup mozzarella, artichoke hearts, spinach, salt, and black pepper.
Spoon the mixture into the prepared baking dish and generously sprinkle with the remaining mozzarella.
Bake for 25-30 minutes until the cheese is gloriously melted, and the dip is invitingly warmed through. For optimum enjoyment, serve promptly.
Conclusion:
"Sizzling Spinach Artichoke Symphony" isn't just a dip; it's an experience. Let the enticing aromas and rich flavors linger as you and your guests delve into a culinary masterpiece. Whether it's a gathering or a solo indulgence, this hot spinach artichoke dip recipe is your ticket to a savory sensation that's sure to be remembered.
source of the picture : small town woman