White chocolate does not actually contain cocoa, which takes it out of the "strictly chocolate" category. It is made from cocoa butter (the natural fat of cocoa beans) and sugar.
YIELDS :2 dz.
PREP TIME :20 mins
TOTAL TIME :3 hrs
Ingredients
3/4 c. unsalted butter, melted and cooled slightly
3/4 c. light brown sugar
1/4 c. granulated sugar
1 large egg
1 large egg yolk
2 tsp. vanilla
2 1/4 c. all-purpose flour
2 tsp. corn starch
1 tsp. baking soda
1/2 tsp. kosher salt
3/4 c. white chocolate chips
2/3 c. candy corn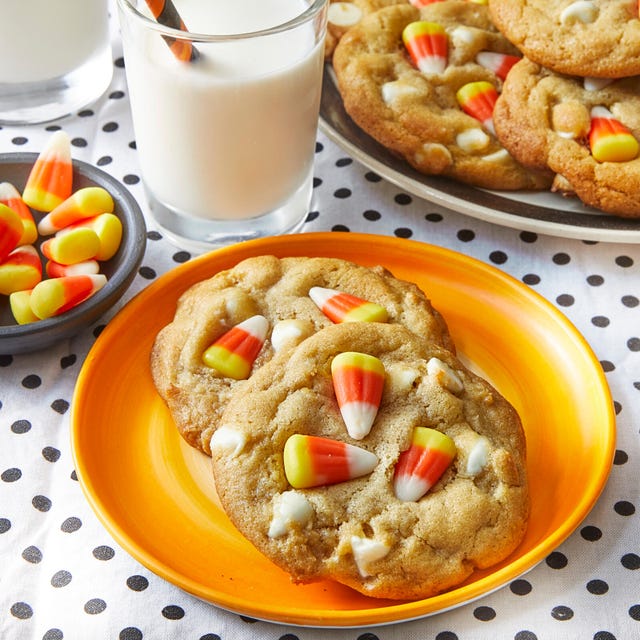 Directions
1Whisk together the butter, brown sugar, and granulated sugar in a large mixing bowl until combined. Whisk in the egg, egg yolk, and vanilla until combined. 
2Whisk together the flour, corn starch, baking soda, and salt in a medium bowl. Add the flour mixture to the butter mixture in two batches, stirring with a spatula until combined. Stir in the white chocolate chips. Cover the bowl with plastic wrap and chill for 2 hours (or up to 3 days).
3Preheat the oven to 350°. Line two baking sheets with parchment paper. Scoop the cookies using a 2 tablespoon sized cookie scoop, leaving the base flat, and place them 1 1/2 inches apart onto the baking sheets. 
4Bake the cookies, in batches, for 11 to 13 minutes or until the edges are light golden brown. Immediately place 3 candy corn pieces on top of each cookie. Let the cookies cool on the baking sheets for 5 minutes, then transfer to wire racks to cool completely.