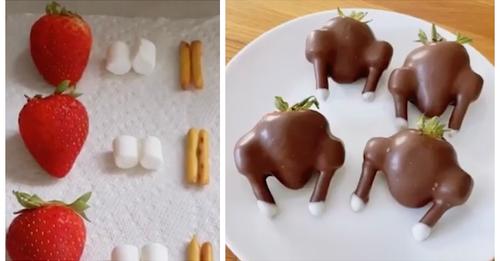 Thanksgiving dinner is usually about the same every year, and we don't complain. We look forward to the traditional dishes served on turkey day – like turkey, stuffing and pumpkin pie. While recipes vary and everyone's favorite side dish may be different, when someone invites you over for Thanksgiving dinner, you pretty much know what to expect.
If you're looking for a little variety this Thanksgiving with a creative twist on the traditional dinner, we think the treat we're about to show you is perfect. Allow us to introduce you to Strawberry Turkeys.
We discovered this gem thanks to TikToker Ella Grace. In her TikTok, which quickly went viral, she shows how easy it is to give chocolate covered strawberries a very appropriate twist for Thanksgiving.
You only need four ingredients to turn strawberries into turkeys. You'll need strawberries, small pretzel sticks, mini marshmallows and melted chocolate. It also helps to have toothpicks on hand to hold it all together. If you combine these ingredients in the right way, you'll have the most beautiful Thanksgiving turkeys you've ever seen.
If you're going to bring a side dish or dessert to Thanksgiving dinner this year, we think these Thanksgiving turkeys will be a hit. You'll probably want to make a lot of them, because we personally know we'd want to eat more than one.
In addition to being cute and easy to make, these strawberry turkeys have another benefit: you can make them ahead of time. You don't have to wait until the last minute. You can assemble them the day before Thanksgiving or in the morning while watching the Macy's Thanksgiving Day parade. However, if we made them too far in advance, we would probably end up eating some of them before Thanksgiving dinner. Maybe make more so we can, you know, test them out.
Are you going to try making those strawberry turkeys?
What dishes are you looking forward to eating at Thanksgiving?
Will you be hosting Thanksgiving dinner this year?