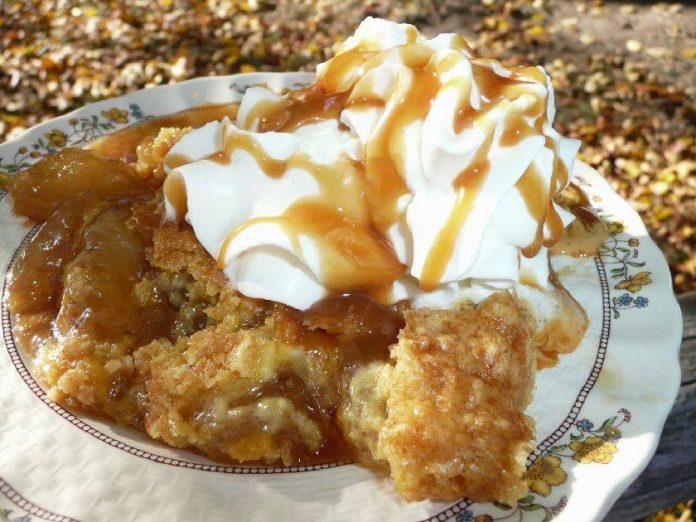 Caramel Apple Dump Cake is the perfect amount of gooey caramel and scrumptious apple filling covered with a soft  buttery crunch topping. 
This is a recipe that is easy enough to make for a family meal and decadent enough to serve to company! It's completely versatile too! You can omit the caramel if you like and use any type of pie filling. Are you a big nut fan?? Well throw in some pecans, walnuts or slivered almonds on top with the cake mix for a little extra crunch! Divine!!!
The addition of the caramel says hello there Autumn, let me take a bite!! It's an apple time of year after all. Let's get this celebrations started with this beautiful dessert! Add a simple scoop of vanilla bean ice cream or heck just top this baby with some butter pecan for a little extra yum!! Whatever tickles your fancy and makes that sweet tooth happy will be perfect!
In a 9 x 13 Baking Dish or in oval slow cooker spray with cooking spray. Spoon cans of apple pie filling in bottom of dish. Pour caramel evenly on top of pie filling. Sprinkle cake mix on top. Drizzle melted butter on top of cake mix. You can also cut butter into slices and top this way also.
INGREDIENTS:
OPEN NEXT TO GET FULL RECIPE…