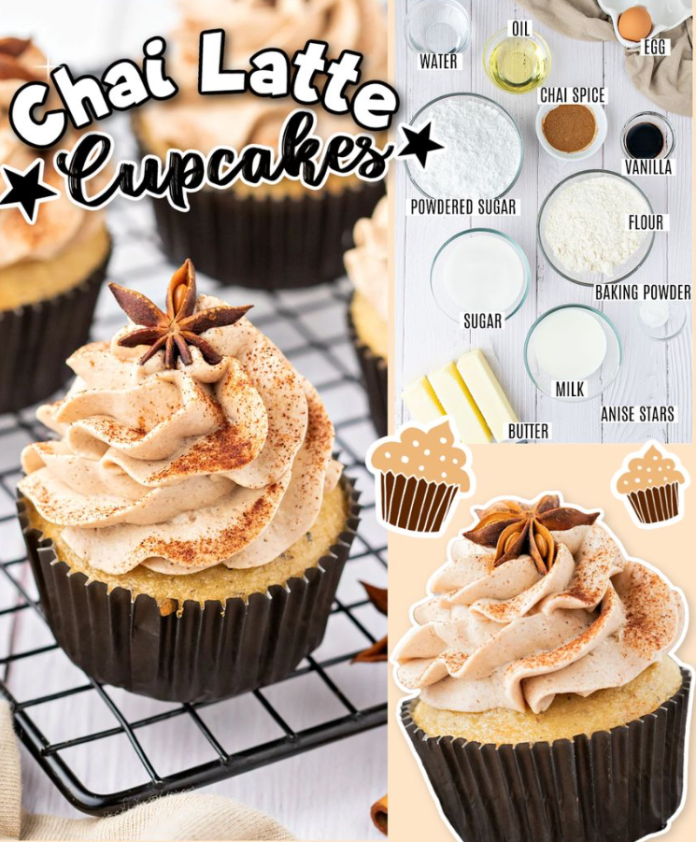 This chai latte cupcake recipe is inspired by the favorite coffee drink. Chai spice and a caramel-infused buttercream frosting make these moist cupcakes perfect for fall!
Once you know how easy it is to make a chai spice mix, you'll want to put it in everything! Then try these easy chai cookies!
Why these cupcakes are the best
Why should pumpkin spice get all the love? I'm here to sing the praises of all things chai spice!
Chai is perhaps a less obvious choice than pumpkin for a fall dessert. But it's just as delicious, especially at this time of year. Today's cupcake recipe is made with the same spice blend used in chai (tea) lattes.
Soft and creamy vanilla cupcakes.
Flavored with an aromatic blend of spices.
Frosted with a sweet caramel and cinnamon buttercream.
A homemade bakery quality dessert.
You'll love these chai cupcakes with a cup of hot tea on a cool day!
Ingredient Notes
These cupcakes start with staple ingredients including flour, butter, sugar and eggs.
Chai Spice – Our homemade chai spice mix is perfect in these chai cupcakes!
Cinnamon and cloves – These are added to the buttercream frosting for even more fall spice flavor.
Caramel syrup – Any bottled ice cream caramel topping will do. It's blended into the buttercream frosting, making it even richer!
Anise stars – We decorated each of these cupcakes with a whole star anise seed on top.
Easy Frosting
These Chai Latter Cupcakes were delicious all on their own merit. But it's the chai buttercream that catapults them into the territory of desserts so good you find yourself dreaming about them afterwards.
When deciding what frosting to use on the chai cupcakes, I couldn't decide between cinnamon frosting and caramel frosting. Both sounded like the perfect complement to the warming chai spices.
So, I made a frosting with both! The caramel turned the frosting into a beautiful latte color.
It's so easy to make, too!
Beat butter with an electric mixer until it's fluffy.
Add ground cloves and cinnamon.
Gradually mix in powdered sugar.
Add two teaspoons of caramel syrup. Mix until combined.
From here, you can taste test the frosting (the best part!). If you want a stronger caramel flavor, add more caramel a little bit at a time until you get the taste you like.
Prep Time : 20 minutes
Cook Time : 18 minutes
Total Time : 38 minutes
This chai latte cupcake recipe is inspired by the favorite coffee drink. Chai spice and a caramel-infused buttercream frosting make these moist cupcakes a perfect gift for fall!
Ingredients
For the Cupcakes
1 ½ cups all-purpose flour
1 ½ cups granulated sugar
1 ½ teaspoons baking powder
2 teaspoons chai spice mix
½ cup milk
¼ cup vegetable oil
2 teaspoons vanilla extract
1 large egg
½ cup water
For the Buttercream Frosting
1 ½ cups unsalted butter, softened
2 teaspoons cinnamon
¼ teaspoon ground cloves
2 teaspoons vanilla extract
3 ½ cups powdered sugar
2 teaspoons caramel syrup
12 Anise stars, optional
Instructions
To make the cupcakes
Preheat the oven to 350°F and prepare a 12 cup cupcake pan with paper liners.
In a large mixing bowl, add the flour, sugar, baking powder, and chai mix. Whisk until combined.
Add the milk, vegetable oil, vanilla extract, eggs, and water. Beat until well combined. The batter will be thin.
Fill the liners about ⅔ way and bake for 15-20 minutes. Remove cupcakes from the oven and transfer to a cooling rack.
To make the buttercream
In a large mixing bowl, beat the butter until smooth. Add the cinnamon, ground cloves, and vanilla extract. Mix until combined.
Slowly add the powdered sugar while mixing on medium speed until completely combined. Add the caramel syrup until you reach the desired taste.
Transfer to a piping bag. Pipe the frosting onto the cupcakes and sprinkle with cinnamon. Top with an Anise Star.
Notes
Our chai spice mix is perfect for today's recipe. You could also swap it out for 1 teaspoon cinnamon, ¼ teaspoon nutmeg, ¼ teaspoon cloves, pinch of black pepper, ½ teaspoon ginger, ½ teaspoon cardamom.
Store cupcakes in airtight container at room temperature for up to 5 days.
See blog post for more recipe tips and tricks.
Nutrition Information:
Yield: 12Serving Size: 1 cupcake
Amount Per Serving:Calories: 548Total Fat: 29gSaturated Fat: 15gTrans Fat: 0gUnsaturated Fat: 12gCholesterol: 77mgSodium: 81mgCarbohydrates: 72gFiber: 1gSugar: 58gProtein: 3g