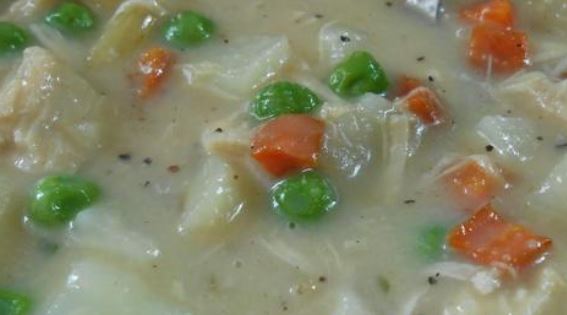 Ingredients :
4 crich chicken stock, no salt added or store bought
2 cmilk or heavy cream
4 csmall diced potatoes
2 ccarrots, small diced
1 cdiced onions
1 ccelery, small diced
1 cfrozen peas
2 ccooked chicken, diced
6 Tbspbutter
6 Tbspflour
1- 1 1/2 tspgranulated garlic
1 tspblack pepper
1 tspgranulated onion
1/8 tspthyme
1/8 tsppoultry seasoning
How To Make :
1Cut potatoes, celery and carrots in same size small cubes. Dice onion. Dice cooked chicken.
2In a large soup pot add 6 tbsp of butter and saute` carrots, celery, and onion till tender.
3In another pot boil diced potatoes until tender. Set aside.
4Once carrots, onion and celery are tender, add 6 tbsp of flour and mix around to make paste. Add milk and mix to make a "gravy", now add warm chicken stock. Mix together well. Add garlic and onion granules, pepper, thyme, and poultry seasoning as well as peas. Simmer for about 20 min. Add potatoes and chicken and salt to taste. Simmer about 10 min. more.