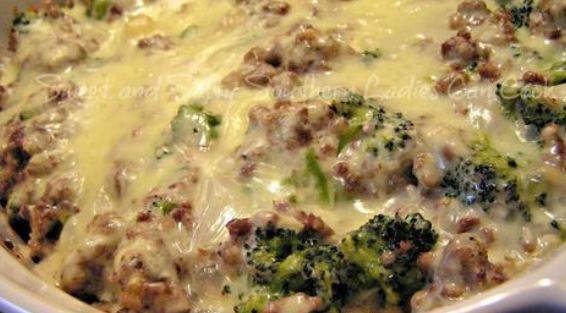 An easy low carb tasty meal that the whole family will enjoy.

This easy low carb dish won't win a beauty contest, but it would take first place based on taste. Seriously yummy! The combination of beef and sausage is a great base for the dish and adds so much flavor. The creamy Alfredo sauce is not only easy but is just the right amount for the recipe. Even if you aren't on a low carb diet, this is a must-try.
Ingredients
1 lbground beef
1 lbbulk sausage (breakfast or Italian will work)
1 tsporegano, dried
1 smonion, chopped
1 clovegarlic, minced
10-12 ozfresh broccoli
1 pkgcream cheese, 8 oz.
1/2 cheavy cream
1/2 cParmesan cheese, grated
8 ozmozzarella cheese, shredded
·salt and pepper, to taste
Serves: 6 to 8
 Prep: 20 Min 
Cook: 45 Min
Method: Bake
How to Make Hamburger, Sausage, Broccoli Alfredo – Low Carb :
In a large skillet, brown hamburger, sausage, onion, and garlic over a medium heat.
Place cream cheese in a microwaveable bowl and microwave on HIGH for about 45 seconds, until soft. Whisk until creamy and smooth.
Combine hamburger, broccoli and cream sauce in a large greased casserole dish (2 ½ quart or larger). Taste test and add additional salt, and pepper if desired.