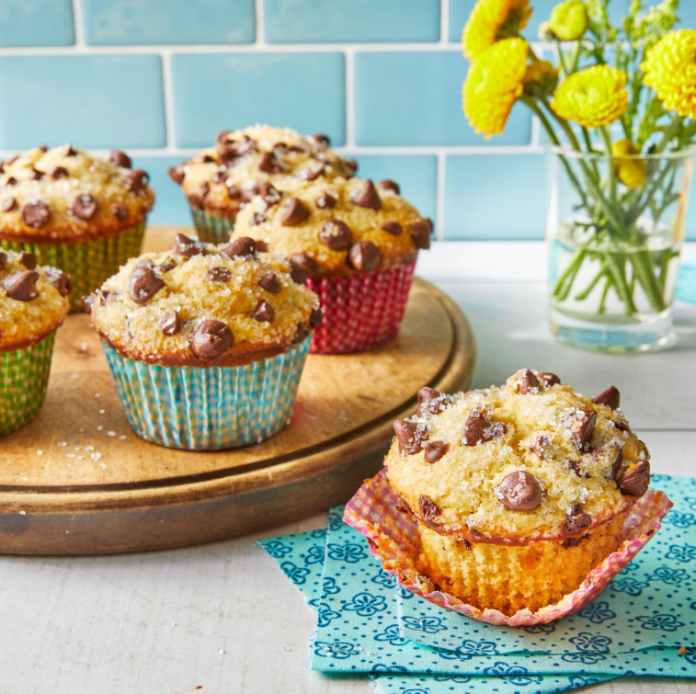 YIELDS: 12 serving(s)
PREP TIME: 10 mins
TOTAL TIME: 30 mins
CAL/SERV: 337
Ingredients
1 c. semisweet chocolate chips
1/2 c. miniature chocolate chips
2 c. all-purpose flour
2 tsp. baking powder
1/4 tsp. baking soda
1/2 tsp. kosher salt
1/4 c. vegetable oil
1/4 c. unsalted butter, melted
2/3 c. packed light brown sugar
1 large egg, at room temperature
1 c. buttermilk, at room temperature
1 tsp. vanilla extract
2 tbsp. sparkling sugar
Directions
Preheat the oven to 425°. Stir together the semisweet chocolate chips and miniature chips in a small bowl, and set aside.
Whisk together the flour, baking powder, baking soda, and salt in a large bowl.
Whisk together the oil, melted butter, brown sugar, egg, buttermilk, and vanilla in a medium bowl. Add to the flour mixture in the large bowl, stirring just until combined. Stir in 1 cup of the chocolate chip mixture.
Spoon the batter evenly into a standard 12-cup muffin tin lined with paper liners. Top the muffins evenly with the remaining 1/2 cup chocolate chips, pressing the chips lightly into the batter. Sprinkle the muffins evenly with the sparkling sugar. Bake the muffins in the preheated oven for 5 minutes. Reduce the oven temperature to 350°, and continue baking 12 to 14 minutes or until a wooden pick inserted in the center of a muffin comes out clean with a few moist crumbs attached. Remove the muffins to a wire rack to cool before serving.
What is the muffin method?
The muffin method is a term used in baking schools to designate a recipe in which the wet and dry ingredients are mixed separately and then combined all at once (many cakes and quick breads are also made this way). Be sure to mix the batter just enough to make the muffins light and tender.
What can be substituted for buttermilk?
If you don't have buttermilk at home, look in your pantry for tested buttermilk substitutes. Regular milk would not be a good substitute, as the acidity is needed to react with the baking powder and baking soda to make soft, fluffy muffins.
What is popping candy?
Popping candy is made without molasses, like granulated sugar, but has a thicker texture. Use it to give muffins and cupcakes a finishing touch. If you don't have it on hand, use regular granulated sugar for the sweet finish.