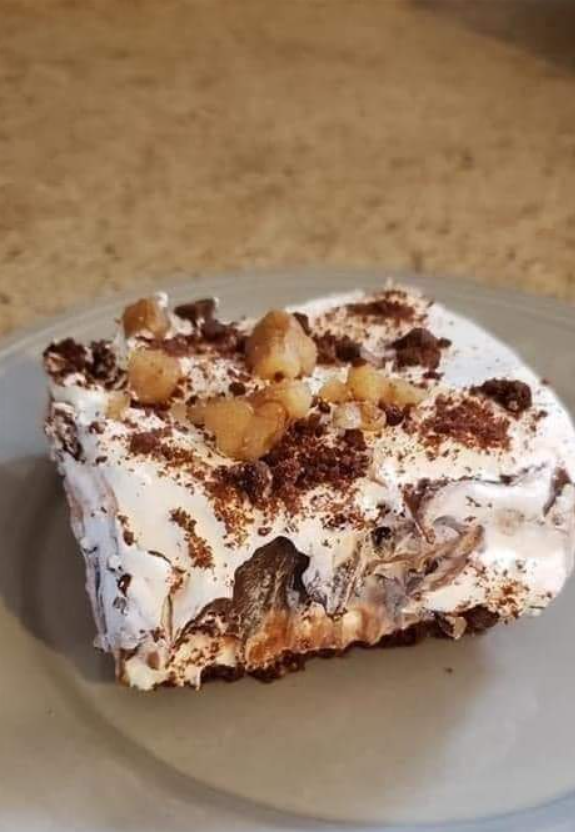 Indulge in the divine goodness of our Heavenly Chocolate Delight! This revamped and delectable dessert is a delightful treat that combines the richness of chocolate with the creaminess of Cool Whip. Perfect for special occasions or simply satisfying your sweet tooth, this unique rendition of a classic recipe promises to tantalize your taste buds and leave you craving for more.
Ingredients:
1 16 oz tub of Cool Whip
1 8 oz package of cream cheese (softened)
1 cup of powdered sugar
1 tsp of pure vanilla extract
1 5.9 oz package of instant chocolate pudding
1 5.9 oz package of instant vanilla pudding
4 cups of milk
1 1/2 cups of chocolate Teddy Grahams
3/4 cup of finely chopped walnuts
1 stick of unsalted butter
Instructions:
Crust:
Preheat your oven to 350°F (175°C).
In a food processor, pulse 1 1/4 cups of chocolate Teddy Grahams and 1/2 cup of chopped walnuts until finely ground.
Combine the ground mixture with a melted stick of unsalted butter.
Press this delectable crust evenly into the bottom of a 9″×13″ casserole dish.
Bake for approximately 15 minutes or until the crust is set and lightly golden. Let it cool while you prepare the rest of the layers.
Cream Cheese Layer: 6. In a medium-sized bowl, combine the softened cream cheese, powdered sugar, half of the Cool Whip, and a teaspoon of pure vanilla extract. Mix until smooth and creamy.
Pudding Layer: 7. In a separate bowl, mix both the chocolate and vanilla instant pudding packages with 4 cups of milk. Stir until the mixture thickens.
Assembling: 8. Once the crust has cooled, gently layer the cream cheese mixture over it.
Carefully spread the pudding mixture over the cream cheese layer, creating a harmonious blend of flavors.
Finishing Touch: 10. Top the dessert with the remaining Cool Whip, lending it a luscious and airy finish.
Sprinkle the remaining chocolate Teddy Grahams and the remaining 1/4 cup of finely chopped walnuts on top, adding a delightful crunch to every bite.
Conclusion:
Our Heavenly Chocolate Delight isn't just a dessert; it's a taste experience that will have your family and friends asking for more. The combination of chocolate, cream cheese, and the surprising addition of Teddy Grahams offers a unique twist on a classic recipe. Remember to refrigerate this masterpiece for at least 6 hours or, even better, overnight. The result is a sensational dessert that will leave everyone praising your culinary prowess. Enjoy the indulgence of Heavenly Chocolate Delight!
SOURCE OF THE PICTURE : Chocolate Delight