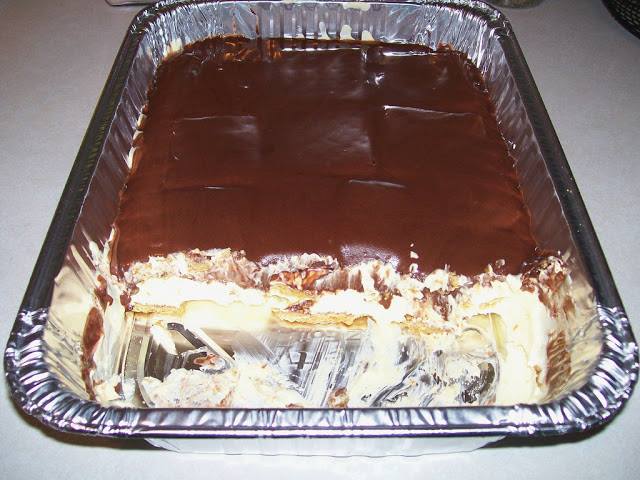 "Let's face it, a nice creamy chocolate cake does a lot for a lot of people; it does for me." – Audrey Hepburn
Hello folks! Today's recipe took completely my heart and soul every time; are you a cake lover? Chocolate addict? Baking admirer? You've come to the right place!
Chocolate Eclaire cake is an easy no-bake dessert that my mother used to make for us almost every week, you can totally say that it's a part of my childhood and memories. This cake gets ready in 10 minutes; all you have to do is to make it a day before (or almost 15 hours before) and leave the refrigerator do the magic!
"Making cake is one of the easiest things in the world." – Random
How to section
WHAT IS CHOCOLATE ÉCLAIR CAKE?
This delicacy is old enough to make you feel the taste of the 60's, it's a no-baking cake made with chocolate coated, creamy éclair, graham crackers, pudding, whipped topping and of course, chocolate frosting!
Éclair?
Éclair is a soft small log-shopped pastry filled with cream and topped with chocolate icing.
Simple Steps:
Take a bowl, whisk together milk and pudding.
In a baking dish (you choose the size), layer graham crackers in the bottom and top with some of the pudding mixture you made; keep making layers (graham crackers and pudding mixture). End with graham crackers.
Add the whipped topping.
Top with chocolate frosting and chill in the refrigerator.
Homemade chocolate frosting
Take a saucepan, combine the corn syrup with baking chocolate very well and cook under medium heat.
Wait for chocolate to melt then remove.
Add vanilla, butter, powdered sugar and milk and mix.
Your chocolate homemade frosting is ready!
Ingredients :
For the frosting:
1 cup of powdered sugar
2 oz. of unsweetened baking chocolate
2 tablespoons of corn syrup
1 tablespoon of vanilla
3 tablespoons of milk
3 tablespoons of butter
3 tablespoons of milk
For the cake:
12 oz. of cool whip
2 ½ cup of milk
2 (14.4) oz. of graham crackers
2 (3.4 oz.) packages of dry vanilla Instant pudding mix
Chocolate Éclair Cake
Prep time: 15 minutes
chilling time: overnight
Total time: 15 minutes
Servings: 24 servings
Enjoyed your Éclair chocolate cake? Your kids asked for more once and twice? WE TOLD YOU!
Important notes:
If you were in a rush, you may replace homemade frosting with one can of milk chocolate frosting.
As for the layers, you'll need exactly one box of graham crackers (there are three packs in a box), count it!
In the cooling time, wrap the cake with plastic wrap and keep in the refrigerator for minimum 8 hours (or overnight). Keep in mind that the cake lasts 5 days in the refrigerator.
If you were using a can of milk chocolate frosting, microwave for 20 seconds in the microwave, stir and pour!
Serving Ideas
Peanut and almond are a great match for such a cake, also; if you were a coffee lover, use coffee as an extra topping. Fruits will also pair well (mango, banana, figs, pear and strawberries).
WHAT ARE CHOCOLATE ÉCLAIR CAKE VARIATIONS?
If you felt the need to try something other than chocolate, you can! There are a lot of fabulous variations:
Chocolate éclair cake with vanilla wafers
Chocolate éclair cake with saltines
Gluten-free chocolate éclair cake
Chocolate éclair cake with bananas
Pistachio chocolate éclair cake
HOW TO MAKE IT :  
CLICK NEXT PAGE BELOW TO CONTINUE READING …