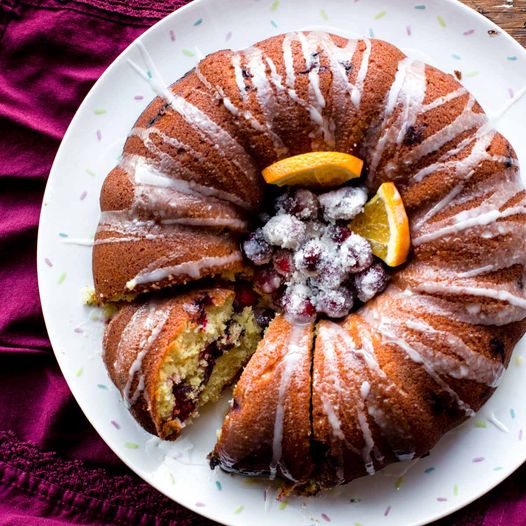 If you're tired of Christmas cookies, this is your day. And if you can't get enough of cookies, stick around because this Bundt cake is a holiday staple!
We take a break from Christmas cookies and dive head first into this simply stunning Orange Cranberry Bundt Cake. We combine tart cranberries, a thick swirl of cinnamon and a sweet orange glaze to create a dessert that's perfect for any holiday!
Prep Time: 15 minutes
Cook Time: 65 minutes
Total Time: 5 hours, 30 minutes
Yield: serves 12
A super moist and deliciously flavored cranberry and orange bundt cake with a thick swirl of cinnamon inside!
Ingredients
3 cups (375g) all-purpose flour (spoon & leveled)
2 and 1/2 teaspoons baking powder
1 and 1/2 teaspoons salt
1 and 1/2 cups (3 sticks; 345g) unsalted butter, softened to room temperature
1 and 3/4 cups (350g) packed light or dark brown sugar, divided
1/2 cup (100g) granulated sugar
zest from 1 orange (about 2 Tbsp)
5 large eggs, at room temperature
1/2 cup (120g) full fat sour cream, at room temperature*
2 teaspoons pure vanilla extract
1/2 cup (120ml) milk, at room temperature
1/4 cup (60ml) fresh orange juice*
1 and 3/4 cups (220g) fresh or frozen cranberries (do not thaw if frozen)*
2 teaspoons ground cinnamon
Orange Glaze
1 and 1/2 cups (180g) confectioners' sugar
3–4 Tablespoons (45-60ml) fresh orange juice*
Instructions
Preheat the oven to 350°F (177°C) and grease a 10-inch Bundt pan.
Make the cake: Whisk the flour, baking powder, and salt together in a large bowl. Set aside. Using a handheld or stand mixer fitted with a paddle or whisk attachment beat the butter, 1 cup (200g) brown sugar, granulated sugar, and orange zest together until creamed, about 2 minutes. Add the eggs, sour cream, and vanilla and beat on medium speed until combined. Scrape down the sides and bottom of the bowl as needed. The mixture will look curdled; that's ok– it will come together when you add the dry ingredients.
Pour the dry ingredients into the wet ingredients, add the milk and fresh orange juice, and beat on medium speed it all until the batter is completely combined. Beat or stir in cranberries. Batter is thick, yet silky.
Make the swirl: Mix the remaining brown sugar and cinnamon together in a medium bowl.
Pour half of the cake batter evenly into the prepared Bundt pan. Sprinkle the swirl ingredients evenly on top and pack down slightly– it will be a thick layer of swirl! Cover evenly with remaining cake batter.
Bake for 55-70 minutes or until a toothpick inserted into the cake comes out clean with just a couple lightly moist crumbs. This is a large, heavy cake so don't be alarmed if it takes a little longer in your oven.
Once done, remove from the oven and allow to cool for 2 hours inside the pan. Then, invert the slightly cooled Bundt cake onto a wire rack or serving dish. Allow to cool completely.
Make the icing: Whisk confectioners' sugar and 3 Tablespoons of orange juice together. Add 1 extra Tablespoon of juice to thin out as needed. (Alternatively, add an extra Tablespoon or 2 of confectioners' sugar to thicken, if desired.) Drizzle icing over cake before slicing and serving.
Cover leftover cake tightly and store at room temperature for up to 2 days or in the refrigerator for up to 1 week.