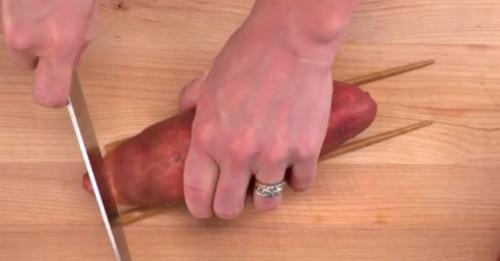 It's that time of year when the air gets crisp and we start craving all the flavors of fall: cinnamon, maple, walnuts and, of course, sweet potatoes. So let's get them together! And we have the perfect dish to do just that: Hasselback Sweet Potatoes with Maple and Pecans.
The Hasselback method is one of our favorites – remember our Smoked Hasselback Potatoes, Hasselback Chicken and Easy Hasselback Baked Apples! – and it's the perfect way to get all that flavor mixed in with the delicious orange potato. Plus, slicing and baking gives the sweet potatoes a fantastic combination of creaminess and crispness that is quintessential fall food. We can't praise this dish enough, so let's stop talking and start cooking! Watch us make it, then read on for the recipe.
HASSELBACK MAPLE PECAN SWEET POTATOES
Serves 2
Prep Time: 5 minutes
Total Time: 45 minutes
INGREDIENTS
2 medium sweet potatoes
1 tablespoon vegetable oil
Salt and black pepper, to taste
2 tablespoons butter, melted
1 teaspoon ground cinnamon
¼ cup chopped pecans
¼ cup maple syrup
½ teaspoon pure vanilla extract
½ teaspoon kosher salt
DIRECTIONS
Preheat oven to 425 degrees Fahrenheit (218 degrees Celsius).
Place a sweet potato between two chopsticks for stability and knife guidance. Every ¼-inch along the length of the sweet potato, slice ⅞ of the way through, or until the knife hits the chopsticks. (The chopsticks will help prevent the knife from cutting all the way through the sweet potato.) Repeat with the second potato.
Brush the sweet potatoes with the vegetable oil. Place in a small baking dish and season with salt and pepper to taste.
Bake the sweet potatoes for 30 to 40 minutes, or until soft.
Remove the sweet potatoes from the oven, and increase the oven temperature to 450 degrees Fahrenheit (230 degrees Celsius).
In a small bowl, combine the melted butter, ground cinnamon, chopped pecans, maple syrup, vanilla extract, and kosher salt. Stir to mix.
Spoon the maple syrup mixture over and in between the baked sweet potato slices, pushing the pecan pieces in between each slice.
Return the filled sweet potatoes to the oven and bake an additional 8 to 10 minutes.
Remove the baked sweet potatoes from the oven and spoon any cooking liquid over the potatoes. Allow them to cool slightly before serving.
These sweet potatoes are perfect for fall. Not only are root vegetables about to come into season, but they pair so well with any dish we crave this time of year – and this maple pecan butter pairs perfectly with them. Brilliant and delicious!
So what do YOU think? Have you jumped on the hasselback bandwagon yet, or ever made anything similar to this dish? What are your favorite ways to enjoy sweet potatoes? Will you be giving this one a try? What other flavors might work with it? Tell us if you attempt it, and how it turns out for you!