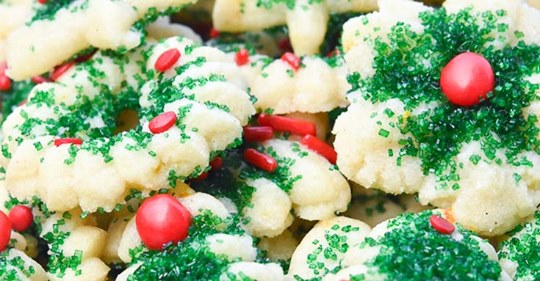 Little Christmas butter cookies may have originated in Germany, but this cream cheese spritz cookies recipe is a California dream! These cream cheese cookies are decadent little Christmas cookies that make the season a little brighter.
The soft crumbly texture of these cookies makes them addictingly delicious and the added cream cheese in the recipe gives these little guys a smooth creamy crave-worthy flavor that just can't be beat. Making cookies is one of the best parts of the holiday season and decorating them with some colorful love just ups the yummy factor.
C'mon…Let me show you how awesome cream cheese spritz cookies are!
WHAT I LOVE ABOUT CREAM CHEESE SPRITZ COOKIES RECIPE
This cream cheese spritz cookies recipe just makes the most decadent little butter cookie with a smooth creamy consistency and they're ready in under half an hour. What's not to love?
Plus, it's so much fun to add those tiny bits of colored sugar crystals and sprinkles to dress them up ever so slightly. They look like sooo much work but they're really not! Here are some other great reasons to love them.
Decadently delicious
Ready in under half an hour
Simple straightforward recipe
Decorating optional
Makes great gifts
RECIPE NOTES
While this cream cheese spritz cookies recipe is simple and straightforward, there are a few tricks to help ensure beautiful little cookies that look as good as they taste!
I know it sounds a little weird but you must mix the dry ingredients first. It really does matter because it helps evenly distribute the leavening agents and spices for a consistent texture and flavor profile across all your cookies. It also means you can do less mixing to combine wet and dry ingredients.
Also, you'll be using a cookie press which isn't nearly as hard as it sounds. Your dough should be a little sticky for this cream cheese spritz cookies recipe but that's part of the fun! Here's a little tip…If dough does not extrude from the press, spray dough lightly with nonstick cookie spray.
Do not use a nonstick or greased cookie sheet or cookies will not stick to the sheet. This time you want your cookies to stick to the pan and stay where you put them. There's such a high-fat content in the recipe your cookies should remove easily when they're done.
Speaking of which, remove cookies from the cookie sheet after 2 minutes or cookies will continue to cook and not remove easily. You don't want them eternally stuck to your pan!
One last thing. Try to space your cookies about 2 inches apart on the cookie sheet. Overcrowding can prevent proper air circulation and cause your cookies to burn. You don't want that.
Ingredient Notes :
CLICK NEXT PAGE BELOW TO CONTINUE READING …