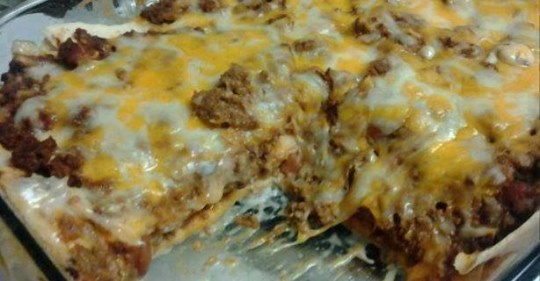 This creamy burrito casserole recipe is an easy weeknight dinner with lots of Tex-Mex flavor. You can put it together ahead of time and bake it while you are changing clothes and checking homework in the afternoon. Packed with beef and gooey cheese to make it a family favorite! Your grocery budget is going to love it, too.
For this recipe you'll need: ground beef, onion, taco seasoning, refried peans, condensed cream of chicken soup (don't dilute), sour cream, flour tortillas, shredded mild Cheddar cheese, fresh cilantro
I like easy weeknight meals, don't you?
I mean, when I wasn't working I had no problem with spending an hour or two making a scrumptious dinner but these days that only happens on a weekend if it happens at all. Spoiler alert – it rarely happens at all.
I am self employed with a successful business that isn't big enough to afford me the luxury of bankers hours or regular lunch breaks. Some of my most lucrative deals have been negotiated with my cell phone on my shoulder and my silent prayer that it didn't fall into the pot of spaghetti sauce I was stirring. You'll understand when I say that a casserole that can be assembled ahead of time and quickly baked at the end of the day is my favorite food group.
Other than chocolate. Or wine
Ingredients
Click Next Button Bellow for Full Recipe…