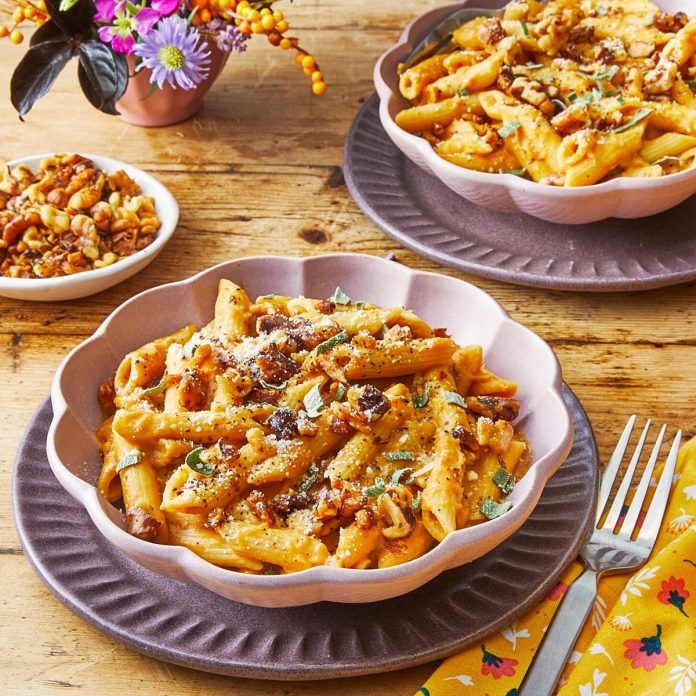 Embrace the changing seasons with a delectable twist on pasta that captures the essence of fall. Our Autumn Bliss Pasta combines the rich flavors of fresh pumpkin, aromatic garlic, earthy sage, and savory Parmesan to create a velvety sauce that'll leave your taste buds singing the songs of autumn. Creamy yet not overly heavy, this recipe is your perfect companion for cozy fall evenings.
What Does Autumn Bliss Pasta Taste Like?
Autumn Bliss Pasta is a harmonious blend of creamy fettuccine Alfredo and the comforting warmth of a pumpkin soup. Instead of relying heavily on cream, we achieve that luxurious texture by simmering fresh pumpkin in chicken stock and then pureeing it into a lusciously smooth sauce. The addition of Parmesan and a touch of double cream infuses the sauce with its signature creaminess.
Perfect Pairings for Pumpkin:
Pumpkin's natural sweetness finds balance in this dish with the addition of garlic and Parmesan, which bring a delightful savory note to the pumpkin sauce. Fragrant sage adds depth and a hint of freshness, elevating the dish to gourmet heights.
For a satisfying crunch, we top our Autumn Bliss Pasta with toasted walnuts bathed in browned butter. If you're feeling adventurous, consider enhancing your meal with crispy bacon, pancetta, or up to 8 ounces of crumbled Italian sausage. To accentuate the autumnal flavors, you can even sprinkle in half a teaspoon of pumpkin spice, ground cinnamon, or ginger into the sauce.
Ingredients:
1/4 cup salted butter
2 tablespoons olive oil
1 cup chopped walnuts
3 cloves garlic, finely chopped
1 tablespoon fresh sage, chopped, plus extra for garnish
6 cups cubed butternut squash (about 30 oz.)
1 teaspoon kosher salt, plus more for pasta water
1/2 teaspoon ground black pepper, plus more to taste
2 cups chicken broth
1/4 cup heavy cream
1 pound penne pasta
1/2 cup grated Parmesan cheese, plus more for serving
Instructions:
Begin by melting the butter in a medium pot over medium heat. Once melted, add the olive oil and walnuts. Cook until the walnuts are gently toasted, and the butter takes on a golden hue (approximately 2-3 minutes). Using a slotted spoon, transfer the walnuts to a paper towel-lined plate.
Into the same pot, add the chopped garlic and sage. Sauté briefly until they release their aromatic magic, about 1 minute. Now, introduce the cubed butternut squash, chicken broth, salt, and pepper. Let it come to a simmer, then cover and cook for 15-20 minutes until the squash is fork-tender.
Carefully transfer the squash mixture to a blender canister. Cover it and remove the top insert from the lid while covering with a kitchen towel (to allow steam to escape). Blend until you achieve a gloriously smooth consistency, approximately 1 minute.
While the sauce is being prepared, bring a large pot of water to a boil and season it with salt. Add the pasta and simmer for 1 minute less than the package instructions recommend. Reserve 1/2 cup of the pasta water and then drain the pasta in a colander.
Return the large pot to medium heat. Combine the butternut squash sauce, heavy cream, cooked pasta, 1/4 cup of the reserved pasta water, and Parmesan cheese. Gently stir with a rubber spatula until the sauce lightly coats the pasta, about 2 minutes. Adjust the consistency with more pasta water as needed, and season with salt and pepper to taste.
Serve your Autumn Bliss Pasta immediately, garnished with additional chopped sage, grated Parmesan cheese, and the reserved toasted walnuts.
Indulge in the flavors of fall with our Autumn Bliss Pasta, where creamy pumpkin and a medley of seasonings dance in perfect harmony. This unique recipe will elevate your autumn dining experience to new heights of culinary delight.
image source : thepioneerwoman.com