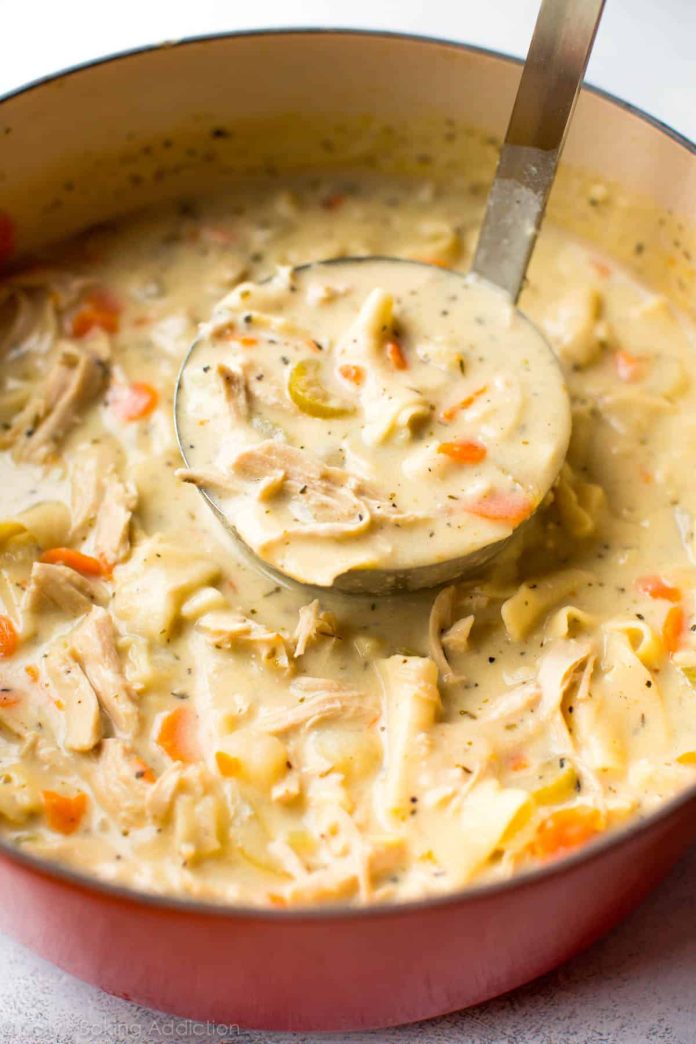 So far, this is my favorite homemade chicken noodle soup recipe because it's the perfect combination of easy, healthy and satisfying. It's creamy, yet light and benefits from the addition of potatoes, thyme, oregano and a convenient pre-cooked roasted chicken. If you're looking for an easy and incredibly delicious homemade creamy chicken noodle recipe, just read some of the comments below and try it out for yourself!
This is one of those recipes that I like to make a big double batch of on cold, slow weekends in January and freeze half for future busy weekends. It's also a great recipe to bring to a friend or neighbor who needs a comforting homemade meal.
This creamy chicken noodle soup has only about 200 calories per 1 cup. The potatoes add zest to the soup and make it more delicate as it cooks. I've made this soup probably close to 100 times since I originally published this recipe in 2015. Trust me, don't leave out the potatoes.
Reader Melinda commented." I made this today, and I have to say, it's our favorite homemade chicken noodle soup recipe right now! I made it exactly as the recipe says. I followed the recipe exactly as written and my husband loved it."
Reader DLand commented." I made this for the first time for a new mom and dad for dinner. It was so good that I can't wait to make it again and save it for my own dinner. Thank you for another wonderful recipe!"
Reader Paula commented." This soup was delicious, the best chicken soup I've ever had. Since I didn't have oregano or fresh thyme, I added Italian seasoning and it was perfect."
Cozy up to a bowl of this soup with a fresh salad and a warm slice of homemade artisan bread, and the meal will leave you feeling satisfied, but not overwhelmed.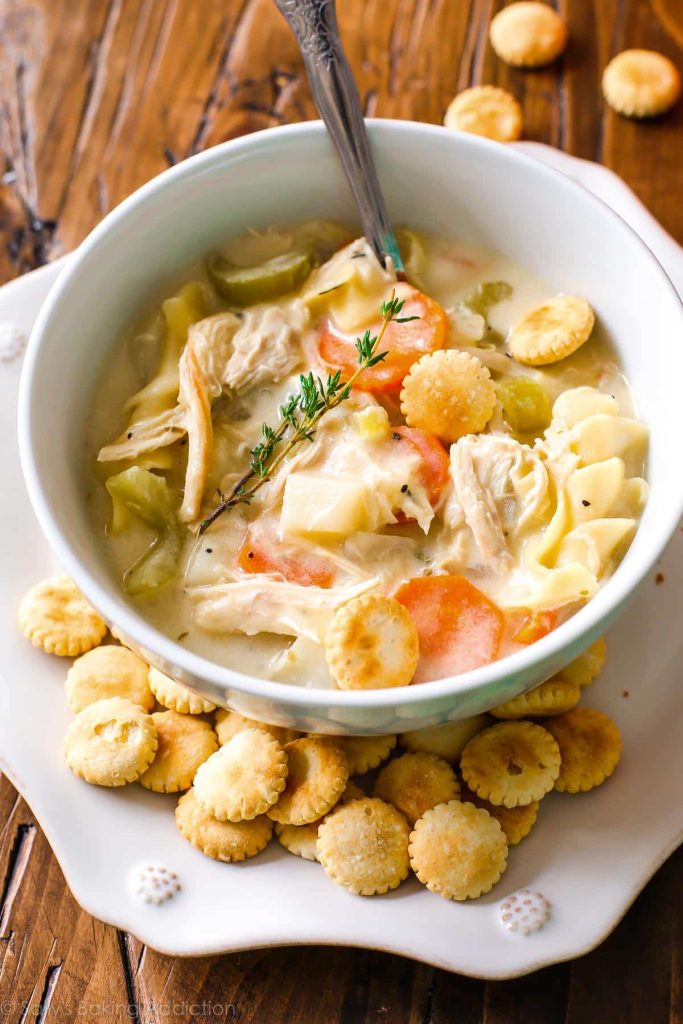 Why you'll love this light, creamy chicken noodle soup
Light, but still creamy and very satisfying
Can be made on the stove or in the slow cooker
One pot meal
Using cooked, roasted chicken saves time
Much tastier than store-bought soup
Make ahead and freeze
A great way to use up leftover chicken
Flavorful spices, herbs and vegetables
The ultimate winter comfort food!
The best ingredients to use.
You will need a large pot and a few staple ingredients. This is a loose recipe, so let's review what can be changed if needed.
Butter. Only a tablespoon is needed to soften the vegetables.
Vegetables. Onions, carrots and celery form the base of the seasoning for this soup.
Herbs/flavor. Use garlic, dried or fresh thyme and oregano, freshly ground pepper and salt. Feel free to substitute any other herbs you like, if desired.
Flour or cornstarch. Flour (or cornstarch) thickens the liquid and transforms this soup from a broth to a creamy soup. See recipe instructions for substitutions.
Chicken broth. Or stock.
Potatoes: 1 medium potato is the first magic ingredient in this recipe because it makes the soup so creamy, hearty and satisfying when cooked.
Chicken. This recipe will save time because you can use pre-cooked chicken. You can also use leftover cooked turkey, like we did in this turkey pot pie I usually buy a small roasted chicken from the grocery store, shred it, and add it directly to the soup. Or you can boil/cook the chicken breast, or roast it with a little garlic and thyme, cool it slightly (or refrigerate it for a day or two), and then shred or dice it. If you have leftover chicken, you can also use it in recipes like my Chicken Quinoa Salad or Peanut Chicken Zucchini Noodles.
Milk or half and half. This is another amazing ingredient to turn your homemade chicken noodle soup into the creamiest soup ever. Use 1 cup of whole milk or 1 cup of half-and-half. If you want to make a regular (non-creamy) chicken noodle soup, use more chicken broth instead of milk.
Noodles. I like to add wide egg noodles to the chicken broth, but you can use any type of dry noodles you like, or leave out the noodles.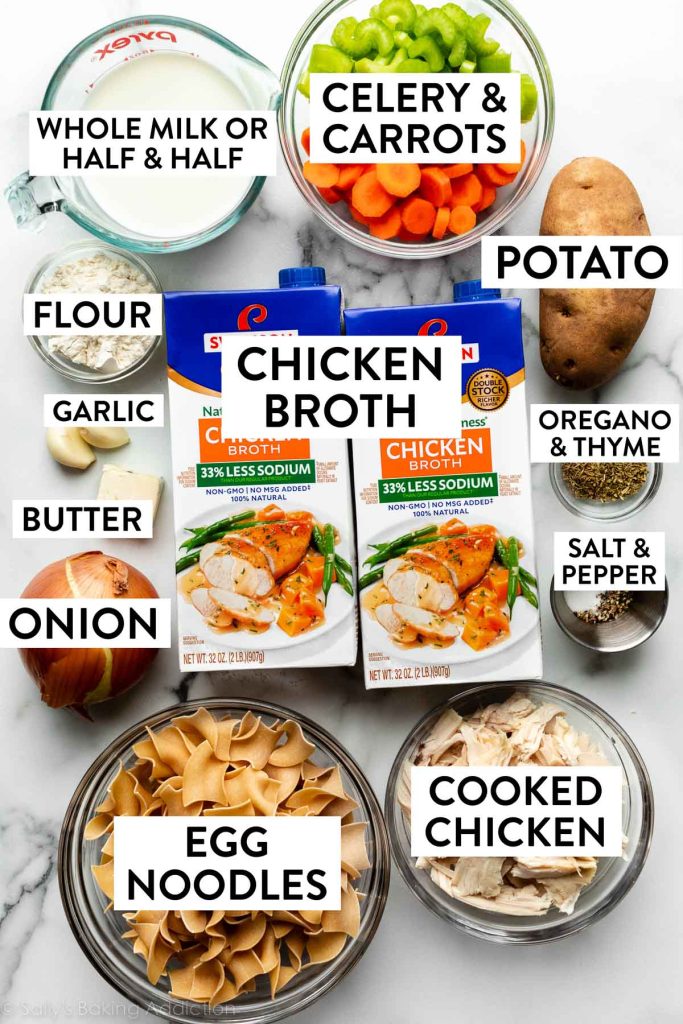 Chicken broth, cooked chicken, noodles, carrots, celery, milk and other ingredients on a marble counter.
If you can find wide egg noodles, use those in your soup today. If you don't have egg noodles, any dry noodles you like will do. Keep the noodles small enough to fit on a spoon, so break up any large dry noodles before using them, if needed. Some readers have even used cornmeal instead!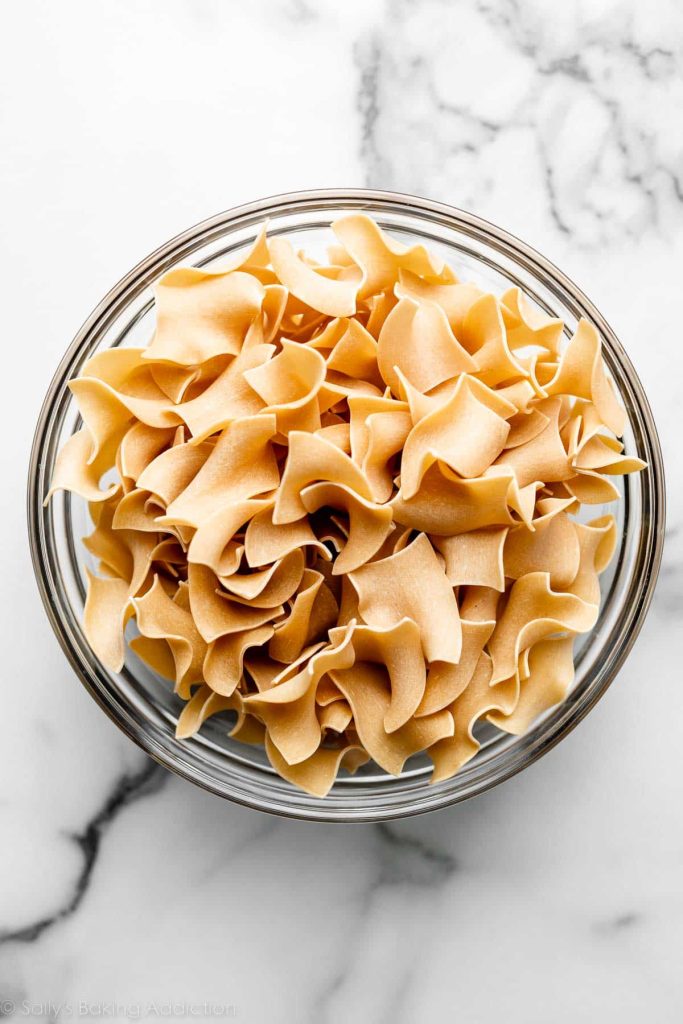 How does the soup thicken?
Cooking the onions, carrots and celery is a key step in the recipe. Once cooked, add the flour and herbs. The flour will absorb the liquid from the softened vegetables and create a nice thick base for the soup. This is exactly how we start making cookie and vegetable pot pies.
Whole or half-fat milk will also thicken the soup. In a pinch, I even use half the amount (1/2 cup or 120 ml) of heavy cream for this. (If you use heavy cream, you can add more chicken broth, see recipe notes).
The flavor is nice and thick and not too heavy.
After the vegetable mixture is cooked and you add the flour and seasoning (above), you will add the broth and potatoes. Bring to a boil, then simmer on the stove and add the milk/half and half, chicken and noodles. Finish cooking. It's all very easy.
*In the recipe notes below, there are instructions for slow cooking! *.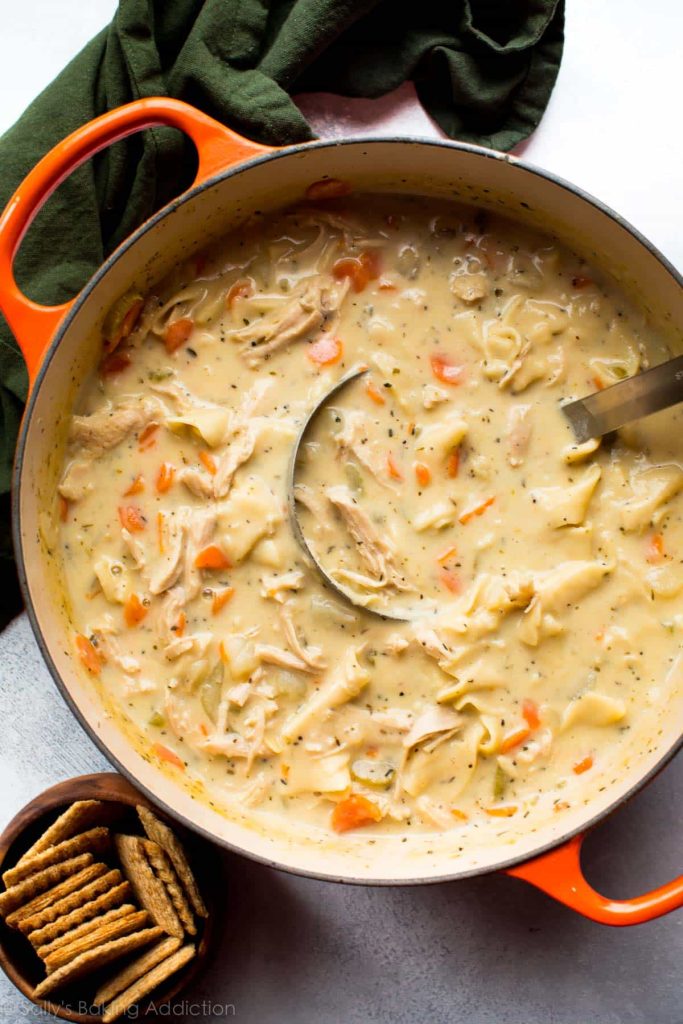 Can I leave out the noodles or use rice instead?
You can. You can skip the noodles altogether and make no other changes to the recipe. Or you can use 1 cup of uncooked rice instead. Add the noodles when you add them.
This soup makes a satisfying This time.
A light bowl of creamy chicken noodle soup will leave you feeling satisfied for hours without feeling tired. This is a meal that keeps on giving because if you have a smaller family, there will be plenty of leftover soup to enjoy during the week. Enjoy it in a homemade bread bowl or alongside a batch of deliciously soft dinner rolls or brown butter sage dinner rolls.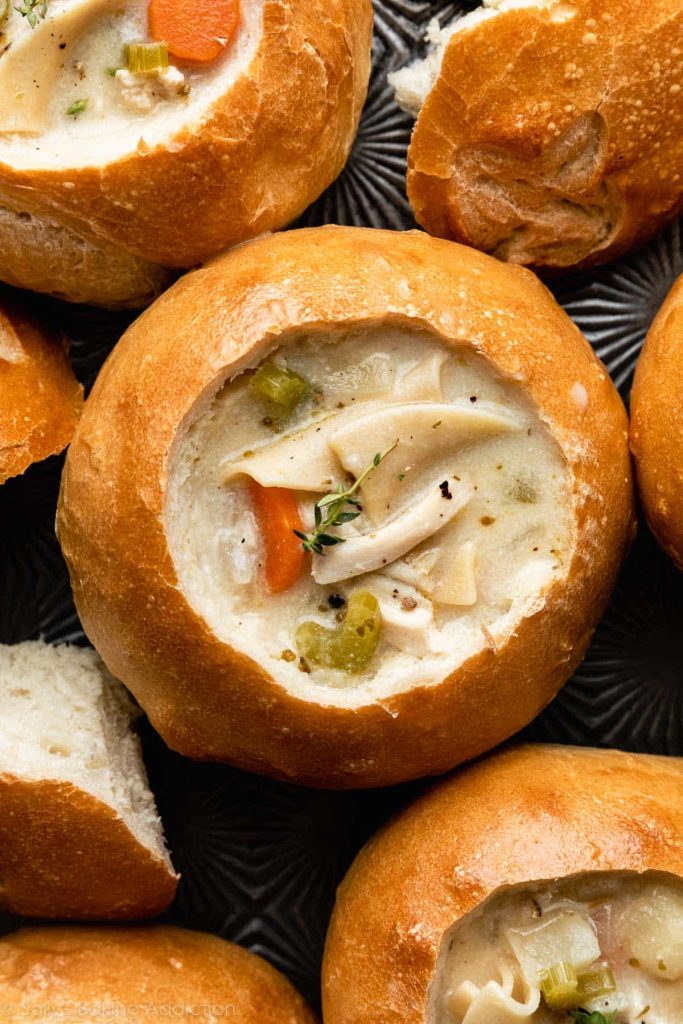 I calculated the nutritional details using the SparkRecipes calculator app, and a 1-cup serving of creamy chicken noodle soup, when made with whole milk, has only 203 calories and 20 grams of protein. Creamy, but very light …… The best soup ever!
Creamy Chicken Noodle Soup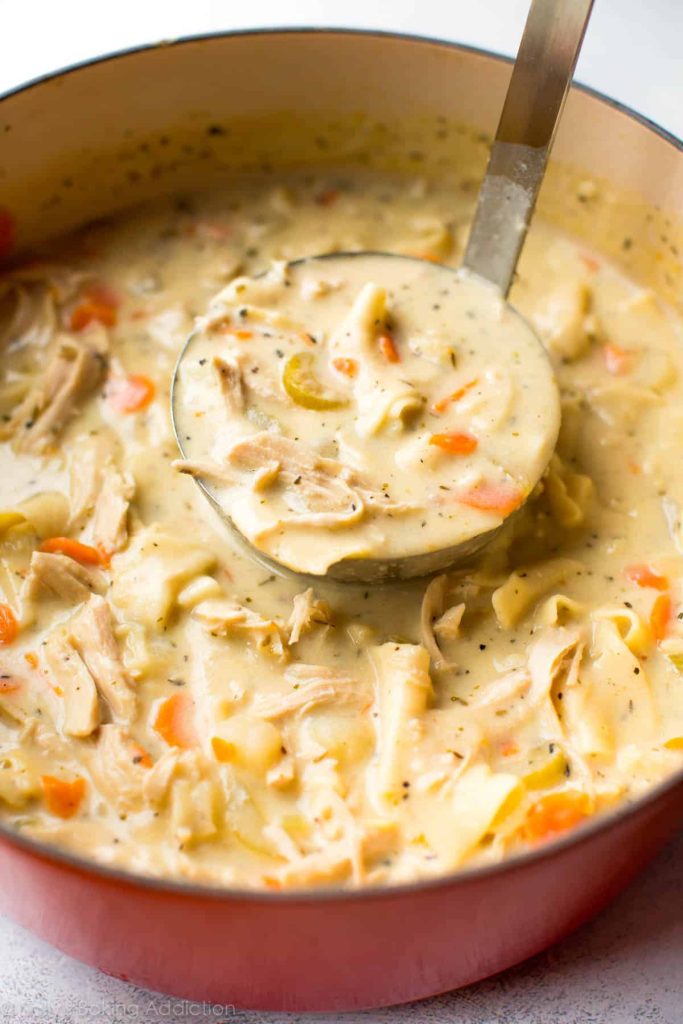 Prep Time: 30 minutes Cook Time: 40 minutes Total Time: 1 hour, 10 minutes Yield: about 12 cups
Description.
This creamy chicken noodle dish is creamy yet light, with the addition of potatoes, delicious thyme and oregano, and the convenience of pre-cooked roasted chicken. It can be made on the stovetop or in the slow cooker (see note for slow cooker instructions).
Ingredients
1 Tablespoon (14g) unsalted butter
3/4 cup (100g) chopped yellow onion (1/2 of a large onion)
1 cup (120g) sliced or diced carrots (1–2 large carrots or a handful of baby carrots)
1 cup (120g) sliced or diced celery (2–3 stalks)
2 garlic cloves, minced
1/4 cup (31g) all-purpose flour (spoon & leveled)
1/2 teaspoon salt
1/2 teaspoon fresh ground pepper
1 teaspoon dried thyme leaves (or 2 teaspoons fresh)
1/2 teaspoon dried oregano (or 1 teaspoon fresh)
8 cups (1.92 liters) chicken broth (I recommend reduced sodium)
1 medium potato, peeled and diced (around 1 and 1/2 cups or 280g)
2 cups (about 250g) shredded or chopped cooked chicken
1 cup (240ml) half-and-half or whole milk
3–4 cups (about 112-150g) uncooked wide egg noodles (or other dry pasta, see note first)
optional for garnish: fresh thyme leaves
Instructions
Melt the butter in a large pot or dutch oven (4 quart or larger) over medium heat. Add the onion, carrots, celery, and garlic. Cook, stirring occasionally, for 5 minutes or until vegetables have softened. Stir in flour, salt, pepper, thyme, and oregano and cook for 2 minutes.
Next, add the chicken broth and potato. Give everything a quick stir, then increase the heat to medium-high. Bring the soup to a boil, without stirring, and boil for 3 minutes. Reduce the heat to medium-low, partially cover the pot, and allow to simmer for 25 minutes or until the potatoes have softened. Taste the soup, and add more seasonings to taste, if desired.
Add the chicken, half-and-half/milk, and noodles. Cook for 10 minutes until the noodles are tender and the soup has thickened. Once again, taste the soup and add more seasoning as desired. Serve warm.
Cover and store leftovers in the refrigerator for up to 1 week. To reheat, simply pour into a pot over medium heat and cook until warm. Feel free to add more chicken broth to the leftovers if it's too thick. (Soup thickens in the refrigerator as the noodles and potatoes soak up the liquid.)
Notes
Freezing Instructions: Freeze soup for up to 3 months. Thaw in the refrigerator the day before eating, and then reheat on the stove until warm.
Special Tools (affiliate links): Dutch oven
Slow Cooker Instructions: Prepare the soup through step 1 on the stovetop. Transfer to a slow cooker (affiliate link) and continue with step 2, but do not add the potato yet. Allow to cook for 2 hours on low, then add the potato, chicken, half-and-half/milk, and noodles. Cook on low for 1–2 more hours.
Flavor Tip: During the last few minutes of cook time, try adding a squeeze of fresh lemon. It's so good!
Flour: Instead of 1/4 cup of flour, you can use 2 Tablespoons (16g) cornstarch.
Herbs: I love this soup with oregano and thyme. Or you can use 1 and 1/2–2 teaspoons pre-made Italian seasoning (found in the spice aisle).
Broth: I use low sodium chicken broth. If you are using regular broth, start with only 1/4 teaspoon of salt. As the soup finishes up, taste and add more salt if desired.
Chicken: I recommend using rotisserie chicken, and you can use either white or dark meat. Or you can roast some chicken breasts yourself. Rub with a little minced garlic and dried thyme, roast in the oven under tender, then shred or chop it. You can also boil 2 large chicken breasts until cooked through, then shred/chop and use in this recipe.
Whole Milk/Half-and-Half: Either works wonderfully in this recipe. Avoid lower-fat milks, and if you need a nondairy milk suggestion, I recommend plain oat milk. Plain almond milk would be the second best option for nondairy. Keep in mind that the soup won't be as creamy. You could use 1/2 cup (120ml) heavy cream instead. If using 1/2 cup of heavy cream, add another 1/2 cup of chicken broth to the recipe.
Best Noodles to Use: I prefer wide egg noodles in chicken soup, but any homestyle egg noodles work. You can use other dry pasta too, such as elbow macaroni or fettuccine (break up to fit on soup spoon). If using a smaller pasta, reduce amount to 2-3 cups. A few readers have even used tortellini! Or you can use 1 cup of uncooked rice instead. Add it when you would add the noodles.