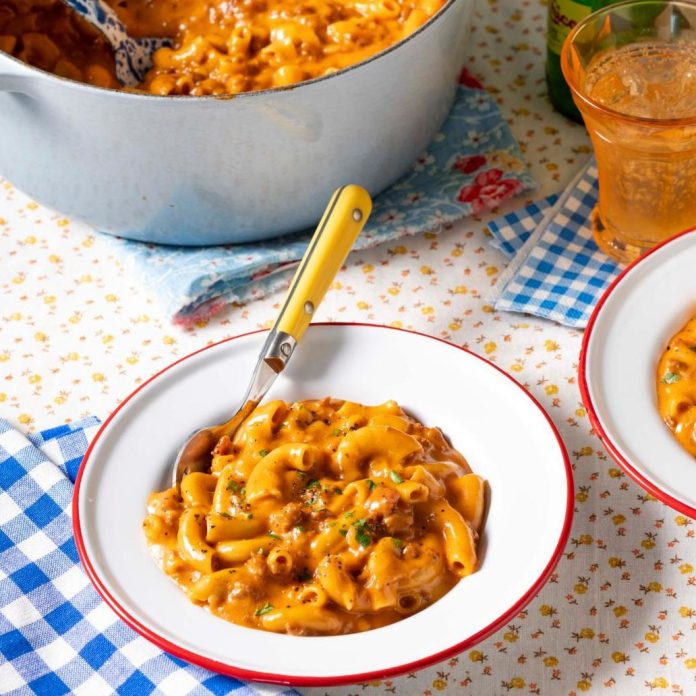 The Burger Gang mascot was always funny, had four fingers, and often used his hand to invite you to dinner out of the box of dry noodles and condiments. But while we miss that taste, sometimes you just want a home-cooked meal. If you're in the mood for beef, this is the dinner guaranteed to satisfy your craving.
Why are homemade hamburgers better than store-bought ones?
There's no shame in pulling a box out of the pantry to prepare a rushed dinner. But if you have the time, you can make this recipe from scratch for a richer, more flavorful dinner. The spices in the bread are more potent, the fresh onions and garlic have more flavor than the dried boxed mixture, and the broth and tomato sauce give the beef and pasta a deep aroma and richness.
What do I need to make homemade hamburgers?
One pound of hamburger meat, four slices of bacon, dry seasoning, canned tomato sauce and soup, a little cream or milk, and fresh onions and garlic. We need more dishes like this now.
Can I use any pasta in my Hamburger Helper?
However, to get that Hamburger Helper feel, you can use a short pasta like elbow macaroni. If you only have long pasta, you can use it, but be aware that your brain may try to think you're eating spaghetti! If you have shorter ones, like spaghetti, macaroni or shells, you can encourage a more enthusiastic high five from the gloves of your burger helper.
Is Hamburger Helper a one-pot recipe?
Hamburger Helper is made in a Dutch oven and can be made in a single pot (pot). While the meat is simmering, you can use the broth containing tomato sauce and cream to cook the noodles.
Homemade Hamburger Helper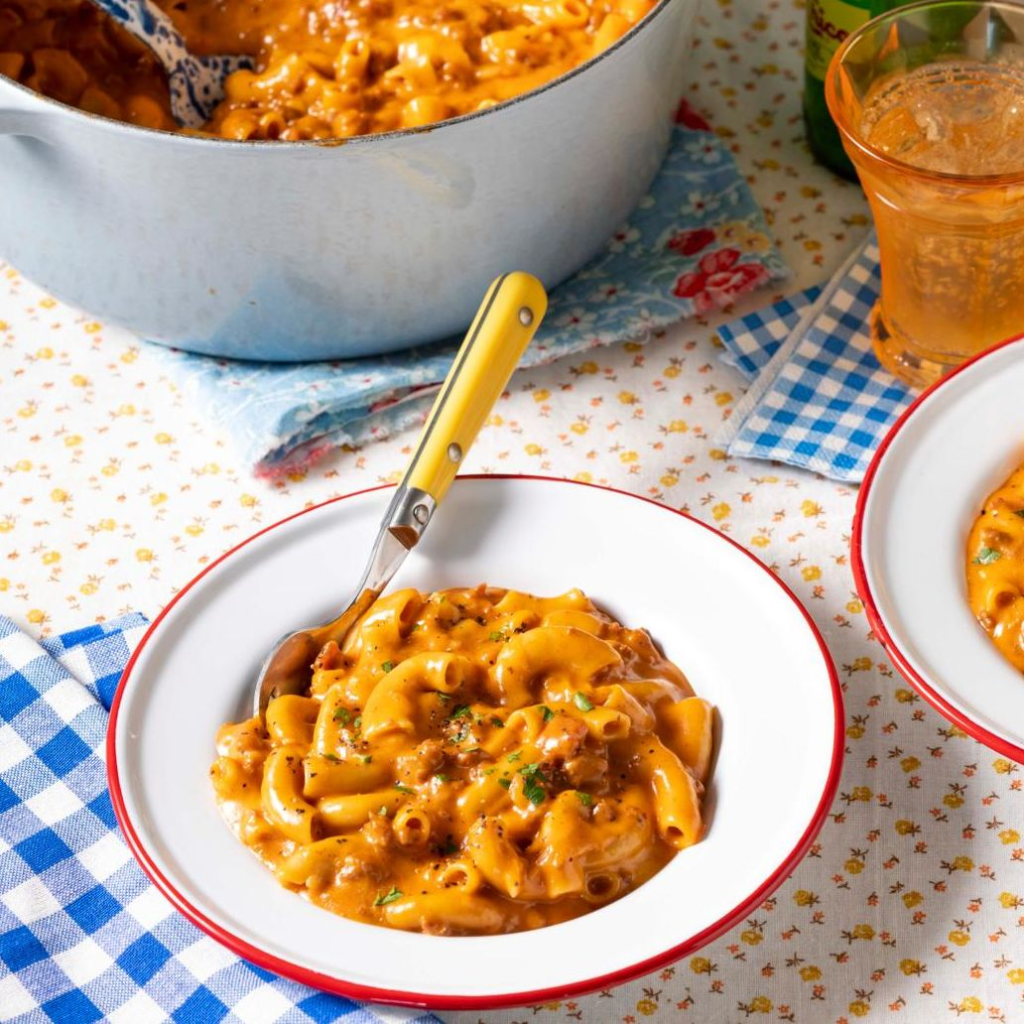 Yields: 6 – 8 serving(s) Prep Time: 10 mins Total Time: 35 mins
Directions.
1 In a large Dutch oven, cook ground meat, bacon, and onion over medium-high heat, stirring, until ground meat is cooked through, bacon is browned, and onion is tender, 12 to 15 minutes. Add garlic and cook, stirring, until fragrant, about 1 minute.
2 Add beef stock, tomato paste, cream, paprika, hot sauce, salt and pepper. Bring to a boil over medium heat. Add pasta and reduce heat to medium-low. Cook, stirring occasionally, until pasta is al dente, about 8 minutes.
3 Reduce heat to low and gradually stir in cheese until completely melted and creamy. Garnish with green onions and parsley, if desired.
Ingredients
1 lb. ground beef (90/10)
4 slices bacon, chopped
1 yellow onion, chopped
3 garlic cloves
3 c. beef broth
1 15-ounce can tomato sauce
3/4 c. heavy cream
1 tbsp. paprika
1 tbsp. hot sauce
2 tsp. salt
1 tsp. ground black pepper
12 oz. large elbow macaroni
8 oz. shredded mild cheddar cheese 
1/4 lb. yellow American cheese slices, torn into small pieces
Green onion or chopped parsley, for garnish