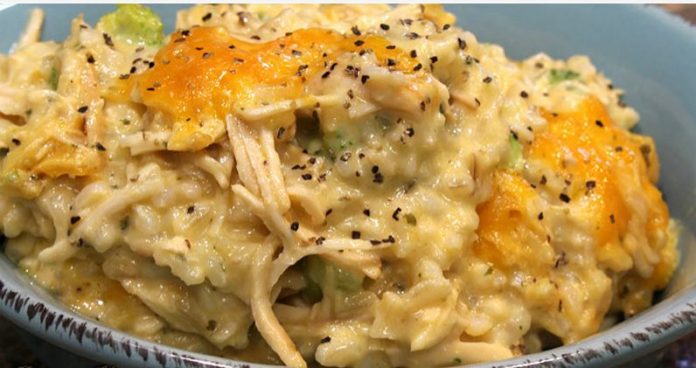 Step into the world of culinary nostalgia with our "Creamy Chicken & Rice Casserole." This revamped classic brings back the comforting essence of your grandmother's casseroles but with a contemporary twist, designed for easy and swift preparation on any weekday night. The harmonious blend of roasted chicken, pre-cooked rice, and a medley of vegetables enveloped in a velvety flour broth enhanced with a touch of sour cream promises a delightful dining experience.
Ingredients:
1 box Chicken-flavor Rice-A-Roni (6 Ounce Box)
1 can Cream Of Mushroom Soup (10 Ounce Can)
1 container Sour Cream (8 Ounce Size)
1 whole Rotisserie Chicken
1 container French-fried Onions (6 Ounce Can)
How to Make It:
Preheat the oven to 350°F.
Prepare the Rice-A-Roni according to package directions.
While the rice is cooking, shred or cut up the rotisserie chicken, removing meat from the bones.
Once the Rice-A-Roni is done, add the can of mushroom soup and the sour cream, stirring to combine.
Incorporate the shredded chicken into the mixture, ensuring an even distribution.
Spread the concoction into a sprayed baking dish (a 9-by-13-inch pan works well) and bake, uncovered, at 350°F for 40 minutes.
After the initial bake, adorn the casserole with a generous layer of French-fried onions.
Return it to the oven for an additional 5 minutes, allowing the onions to achieve a golden crisp.
Remove from the oven, savor the enticing aroma, and resist the temptation to devour the entire dish in one sitting.
Conclusion:
As the delightful aroma wafts through your kitchen, our "Creamy Chicken & Rice Casserole" beckons you to enjoy the perfect marriage of convenience and flavor. This modern comfort fusion is not just a meal; it's a journey back in time with a contemporary flair. Embrace the simplicity of this dish, designed to bring joy to your table and make every bite a moment of culinary nostalgia.
Source of the picture : cookitonce