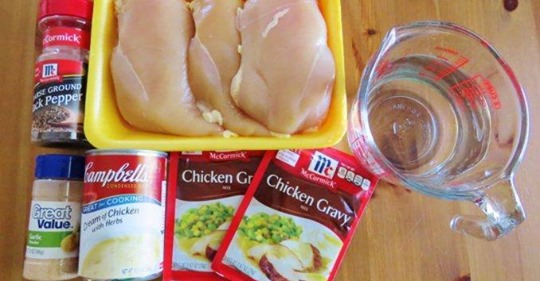 Prep Time 
10 
minutes
, 
Cook Time 
8 
hours
, 
Total Time 
8
hours
10
minutes

, 
WW SP:
 4 
– 
Serves:
 6 
– 
Serving size: 
4 ounces chicken and ¼ cup gravy
My son put this in the crockpot while I was at work. He made it exactly as the recipe said and it was great. Will make again!! We doubled the recipe for our family of six and had a lot of leftovers which tasted just as good.
Here's my latest comfort-food recipes: Crockpot Chicken and Gravy. It's got shreds of white-meat chicken, seasoned with pepper and garlic powder, swimming in a rich, creamy gravy laced with sour cream. So it's kind of like beef Stroganoff, only with chicken – which is cheaper and healthier.
To up the comfort factor on this even more, I serve it over mashed potatoes instead of rice or noodles. So the whole meal has a soft, warm, creamy texture that just slips blissfully down your throat.
How to make it:
Open Next Page To See Full Recipe