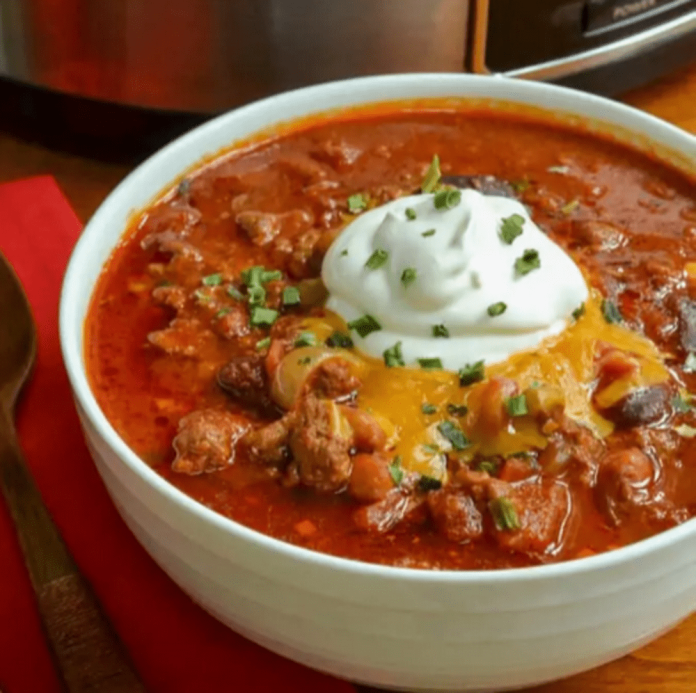 Experience the art of slow cooking with this delectable Crock Pot Chili creation. Crafted with your choice of ground beef or turkey, a medley of beans, tomatoes, and an array of tantalizing spices, this dish requires just 20 minutes of prep time. After a gentle simmer of five hours, you'll be rewarded with a hearty, flavorful bowl of chili that's perfect for busy individuals and families alike. When dinner hour strikes, your supper will be ready to savor, with the option to garnish it with cheese, sour cream, and fresh green onions. While it's a satisfying meal on its own, consider pairing it with cheddar biscuits or cornbread for an extra treat.
To achieve the best results with this chili recipe:
Opt for ground chuck for a richer and juicier texture, although leaner ground sirloin works as well. You can also use ground turkey, pork, or chicken for a leaner alternative.
Finely mince the onions for a consistent flavor in every bite.
Remember to drain and rinse the beans; you can choose from kidney, pinto, navy, Great Northern, or black beans.
If you prefer a spicier kick, increase the crushed red pepper and cayenne pepper to suit your taste.
Create a chili fixings bar, offering an assortment of toppings for your family and friends to personalize their bowls.
Low and slow is the key to the perfect chili, so set your crock pot on low and go about your day.
Don't fret if you don't have a crock pot; you can prepare this recipe in a Dutch oven or a heavy stovetop pot.
For leftovers, store them in an airtight container in the refrigerator for up to four days.
If you plan to freeze the chili, ensure it's fully cooled, then ladle it into sturdy freezer containers or zipper freezer bags. Thaw in the fridge overnight.
Ingredients:
1 ½ lbs ground beef or ground turkey
1 large sweet onion, finely chopped
2 cloves garlic, minced
3 cups low-sodium beef broth
1 (6-ounce) can of tomato paste
2 (10-ounce) cans of diced tomatoes and green chilies
1 (14.5-ounce) can of fire-roasted diced tomatoes
1 (15.5-ounce) can of dark red kidney beans, drained and rinsed
1 (15.5-ounce) can of pinto beans, drained and rinsed
3 tablespoons chili powder
2 teaspoons ground cumin
1 teaspoon smoked paprika
1 tablespoon brown sugar
¼ teaspoon crushed red pepper
⅛ teaspoon ground cayenne
Kosher salt and black pepper to taste
Instructions:
In a large skillet over medium heat, brown the ground beef (or turkey). Add the onion halfway through the browning process and cook until softened. Stir in the minced garlic and cook for an additional minute. Drain any excess grease and transfer the meat mixture to the crock pot.
Whisk together the beef broth and tomato paste, then pour it over the meat mixture.
Add the diced tomatoes, fire-roasted tomatoes, kidney beans, pinto beans, chili powder, cumin, paprika, brown sugar, red pepper, and cayenne.
Cover with the lid and set your crock pot to low for 6-8 hours or high for 3-4 hours.
Season with kosher salt and black pepper to taste.
Note: For extra flavor, use ground chuck and be sure to drain the fat. You can also substitute ground turkey, pork, or chicken for a leaner alternative. Customize the spice level to your liking and consider offering a chili toppings bar for a personalized touch. Enjoy the convenience of low and slow cooking, and feel free to freeze leftovers after proper cooling.
image source : smalltownwoman