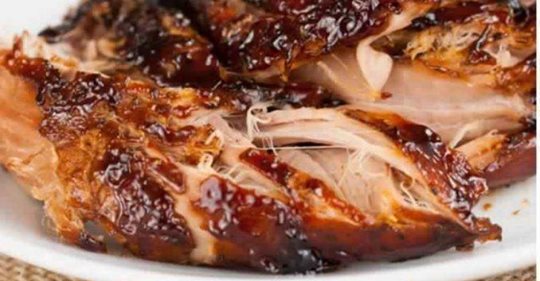 This recipe is wonderful it definitely does not take as long I use a tenderloin every time and it take usually around 5 hours I never put mine in the oven to broil because I read it dries it out sometimes I'm able to put the sauce on within the last hour sometimes I'm not it is delicious either way!!!
I made this crockpot pork for Dave last week. I am always looking for new things to make for him, to keep things interesting. I don't know why I bother though. I am sure he wouldn't feel any different about the meals I made for him if I simply rotated the same 3 meals for the rest of his life. I swear, if food wasn't necessary for survival he wouldn't eat. He's crazy.
So since I don't eat pork, I didn't personally try this meal and can't tell you what I thought of the recipe. I cantell you that my Husband ate it until there were no more leftovers and he was very pleased with it. It is also highly rated at the site where I found the recipe. Not to mention that it was super easy to make as well. It is a crockpot recipe after all!
And even though I don't really eat meat, I do have a great appreciation for a good caramelized crust. The original recipe has you start to glaze the pork during the last hour of cooking and then serve it as is when it is done in the crockpot. I didn't both glazing it in the crockpot and instead glazed in on a sheet pan and put it under the broil. I repeated this 3 or 4 times to get a good caramelized crust going. I just think its a better method, even if it is a bit more work. There is no way it will caramelize in the crockpot, will it? I don't know, I don't make enough crockpot recipes to have any idea. Anybody out there know whether of not it would?
Ingredients
2 pounds Pork tenderloin
1 teaspoon Ground sage
½ teaspoon Salt
¼ teaspoon Pepper
1 clove Garlic; crushed
½ cup Water
½ cup Brown sugar
1 tablespoon Cornstarch
¼ cup Balsamic Vinegar
½ cup Water
2 tablespoons Soy sauce
HOW TO MAKE:
Click Next Button Bellow for Full Recipe…