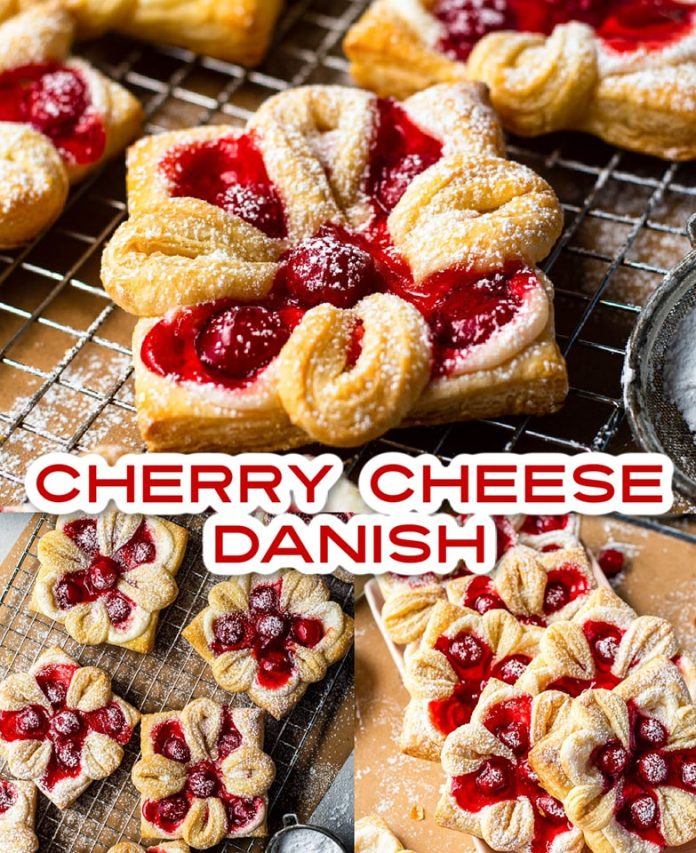 This easy cherry cheesecake danish recipe is fancy enough for parties and special occasions, but simple enough to make on a Tuesday morning. Cherries are literally the cherry on top of the perfect cheesecake! A tasty shortcut makes this a family favorite! Other breakfast favorites: breakfast casserole, homemade cookies, buttermilk pancakes and our favorite, baked bacon!
Cheese Danish is easily one of our favorite breakfast treats and when you add cherries… yes, please!
While danishes are typically reserved for special occasions and the holidays (every.single.Christmas), I've used a shortcut here that makes this easy breakfast treat perfect for any day of the week.
There is seriously nothing better than biting into that crispy puff pastry and then sinking your teeth into the sweet and savory cream cheese layer. So delicious!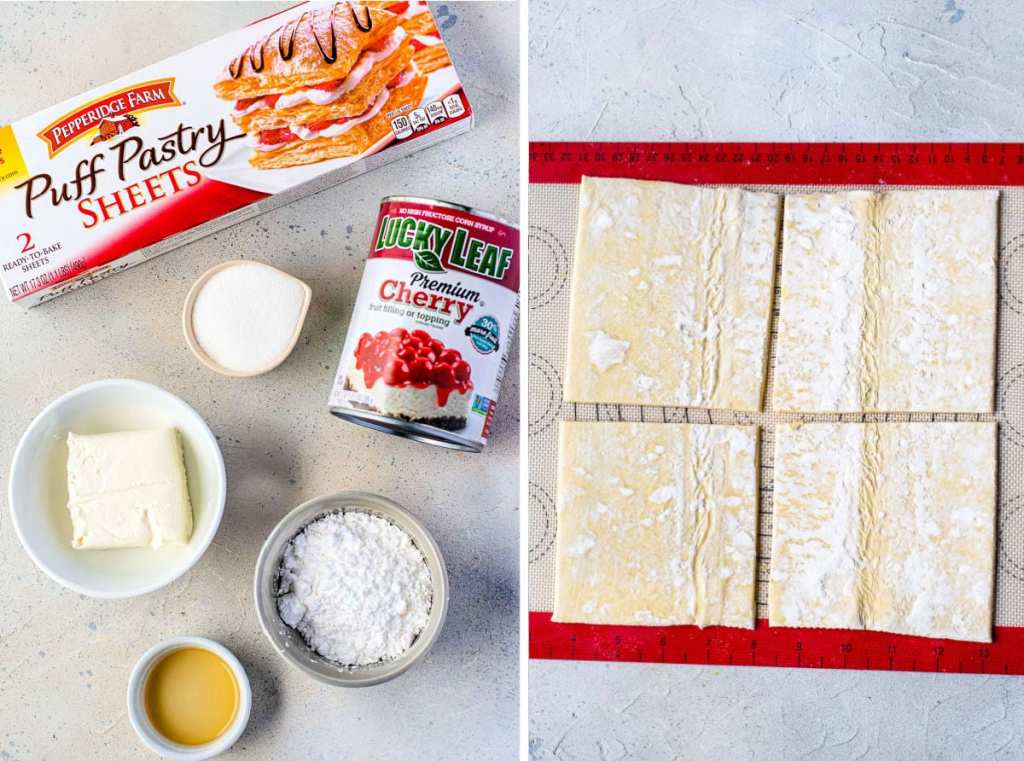 This easy Cherry Cheese Danish recipe is fancy enough for holidays and special occasions yet simple enough to make on a Tuesday morning. A delicious breakfast that looks so impressive!
 Course : Breakfast
 Cuisine : American
 Keyword : cheese danish, cherry danish, danish recipe
 Prep Time : 15 minutes
 Cook Time : 12 minutes
 Servings : 8
 Calories : 276kcal
Ingredients
17.3 ounces frozen puff pastry 1 box, 2 sheets
6 ounces cream cheese
⅓ cup sugar
1 ½ teaspoon vanilla extract or 3 tablespoons of bourbon
21 ounces cherry pie filling
powdered sugar for dusting on top
Instructions
Preheat oven to 400°.
Lay out one roll of puff pastry and cut it in half and then in half again. Making 4 even squares.
Leaving a ½ centimeter edge, start ½ centimeter in from the corner and cut parallel to one side not quite to the middle. Start from where you cut at the corner and make an L going down the other side but not all the way to the middle. Do this on each corner. (see photo for example)
Repeat on all 4 squares.
Mix cream cheese, sugar and Bourbon in a bowl. Put one scant teaspoon in the middle of each corner of the pastry.
Place one cherry and small amount of filling on each cream cheese corner.
Dip finger in water and dampen each corner to help them stick.
Fold each cut corner piece into the middle making sure to press slightly so it will hold. Put one cherry in the middle.
Repeat with second roll of pastry.
Bake for 12 min.
Remove from oven and sprinkle with powdered sugar. Enjoy!
Notes
Tools Needed
Dusting Wand or Strainer/Sifter | Sheet Pans | Silicone Baking Mat | Pizza Cutter
Nutrition
Calories: 276kcal | Carbohydrates: 23g | Protein: 3g | Fat: 19g | Saturated Fat: 7g | Cholesterol: 23mg | Sodium: 145mg | Potassium: 48mg | Fiber: 1g | Sugar: 9g | Vitamin A: 286IU | Calcium: 24mg | Iron: 1mg