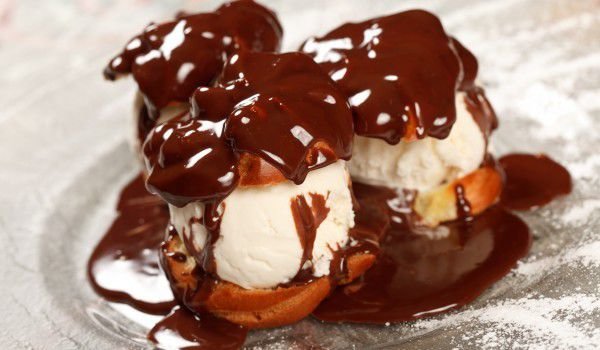 "Not just eclairs but chocolate perfection with ice cream, which no one can resist!"
Preparation : 30 min.
Cooking : 30 min.
Тotal : 60 min.
INGREDIENTS
FOR THE ECLAIRS
water – 4/5 cup (200 ml) cold
butter – 3 1/3 tbsp (50 g) unsalted
salt – 1/2 tsp
flour – 2/3 cup (150 g)
eggs – 3
FOR THE ICE CREAM
ice cream – 2 lb (1 kg) vanilla
gelatin – 1 1/3 tbsp (20 g)
sour cream – 4/5 cup (200 ml)
sugar – 3 – 4 tablespoons, or to taste
vanilla – 1 tablespoon, essence
HOW TO COOK
First make the ice cream. Soak the gelatin until swollen, then melt it without boiling. Leave the vanilla ice cream at room temperature to melt a bit, but not completely. Beat the ice cream with the cream and sugar until you get a fluffy mixture and while beating constantly, add the vanilla and gelatin in a trickle. Put thus prepared cream in the freezer.
For the éclair dough, put the water, butter and salt in a container on the stove and just before boiling point, remove it from the heat and add all the flour. Stir vigorously until it begins to come off the walls of the pot. Allow it to cool slightly and mix well with the eggs, adding them one by one.
Use a pastry bag to form the dough into small éclairs in a tray, covered with baking paper. Bake for about 25 minutes at 390°F (200 °C) in a preheated oven with a bowl of water in it. Leave the ready éclairs to cool with the oven door open. Only after they have completely cooled, use an ice cream spoon to put a scoop in each éclair.
You can also use a regular spoon. Fill the éclairs immediately before serving and pour on a chocolate topping if desired.