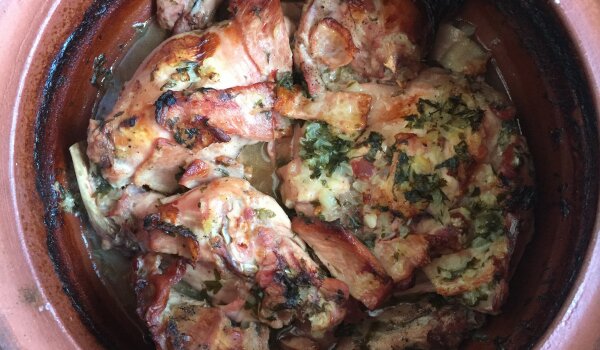 "Just so you know, the rabbit with bacon goes with a glass of homemade red wine – we advise you to find out as soon as possible"
Preparation : 10 min.
Cooking : 120 min.
Тotal : 130 min.
Servings : 4
INGREDIENTS
rabbit meat – 1 pc.
bacon – 3.5 oz (100 g)
flour – 1 tbsp.
onion – 1 onion
water – 1 cup
oil – 3 tbsp.
black pepper
parsley – 3 stalks
salt
HOW TO COOK
Cut the rabbit into small portions and the bacon into thin slices. The onions and parsley are finely chopped.
In a suitable clay pot with a greased bottom, place a layer of half of the rabbit meat, sprinkle with bacon, add the spices and onions.
Then place the remaining rabbit meat on top.
Beat the flour in a little lukewarm water and pour it over the meat.
Cover the clay pot and bake the rabbit in a moderately heated oven, until the meat begins to separate from the bones.
Serve a portion of rabbit with bacon in a clay pot with homemade wine.