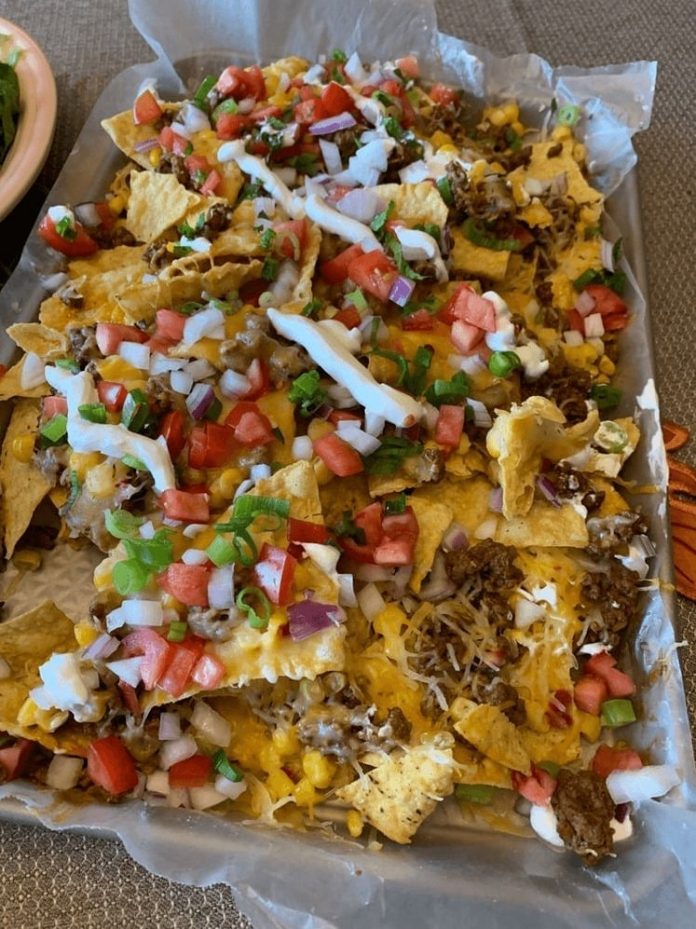 Prepare your taste buds for an unforgettable culinary adventure with our rendition of Epic Beef Nachos Supreme! This dish takes the classic nachos to a whole new level of indulgence, featuring perfectly seasoned beef, a tantalizing sauce, and a glorious mountain of melted cheese. Whether you're hosting a game day gathering or simply craving a delicious treat, these nachos will undoubtedly steal the show.
Ingredients:
300 g (0.66 pounds) ground beef
1 medium onion, diced
400 g red beans
175 g nachos
½ cup grated cheese
½ cup heavy cream, sour cream, or creme fraiche
For the Sauce (Mix Together):
Tomato sauce
Onions
Peppers
Hot jalapenos
Garlic
Cilantro
Instructions:
In a large frying pan, heat up some oil and add the minced beef and diced onion. Season with salt and pepper. Cook until the beef is browned and the onion is tender.
While the beef is cooking, prepare the sauce by chopping the vegetables and sautéing them in a separate pan until they begin to soften. Then, add the tomato sauce and continue cooking until the vegetables are fully cooked, about 20 to 25 minutes.
Combine the sauce with the cooked beef in the frying pan. Allow the mixture to simmer until the beef is fully cooked, and there are no raw elements, which should take around 20 to 25 minutes.
Arrange the corn tortillas (nachos) on a baking sheet. Pour the flavorful beef and sauce mixture generously over the nachos.
Sprinkle the grated cheese evenly over the nachos and season with a pinch of salt and pepper for that extra burst of flavor.
Bake the nachos in the oven until the cheese is beautifully melted and boasts a golden-brown hue.
Once done, remove the nachos from the oven, and prepare to dig in!
Serve your Epic Beef Nachos Supreme with a dollop of sour cream or creme fraiche for an added touch of creamy delight.
Recipe Notes:
Get creative with this recipe by using the beef mixture as a filling for tacos or quesadillas.
For a twist, consider replacing the ground beef with chicken or lamb.
Remember, the key to these Mexican nachos lies in selecting high-quality ingredients that will elevate the flavors to new heights.
Now, get ready to savor the epic flavors of these Beef Nachos Supreme. Whether you're enjoying them as a snack, appetizer, or main course, this dish promises a mouthwatering fiesta of taste that will leave you craving more!