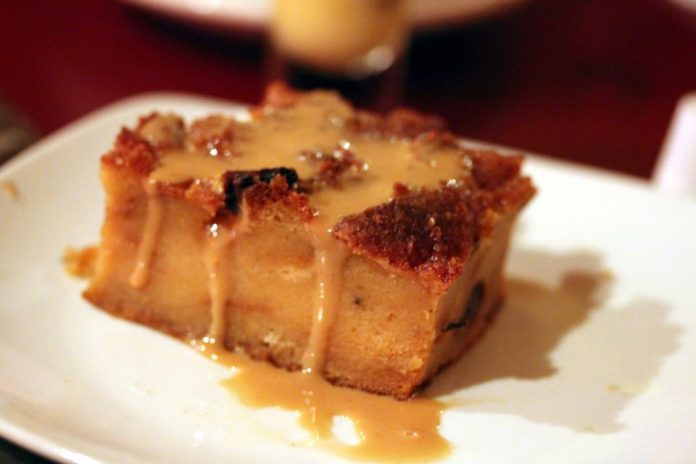 "My weakness is sweets. I like bread pudding and cheesecake in particular." ~ Vivek Murthy
The thing is, you may feel the need to eat something sweet and delicious once a while. If so, you are in the right place at the right time friend!
Old-fashioned bread pudding with vanilla sauce is an easy recipe that can be served in different occasions, make your folks gather at the table and share memories together. They say that good food brings people together even if they weren't alike.
Follow my instructions carefully, and keep in mind that not only ingredients needed; add some love and passion in your dish.
"Your face makes my soul want to eat bread pudding!"
How to section
Wear your apron my friend! Things are about to go messy and sweet.
WHAT TOOLS YOU'LL NEED?
Measuring spoons
Measuring cups
Cooking spray
Baking pan
Saucepan
Potato peeler
Whisk
Bowl
HOW TO KNOW IF THE PUDDING BREAD IS READY?
Use a food thermometer! If it reaches 160° then your meal is ready. Otherwise, insert a metal knife in the middle of the dish, if it comes out clean, your dish is ready!
Simple Steps:
Take a deep baking dish and spray with non-stick spray; grease with butter, and preheat oven to 350°F.
Add bread slices.
In a saucepan, whisk butter and milk and let it melt under low heat.
Add all remaining ingredients and pour over the bread; Bake for 50 to 60 minutes.
While it's cooking, combine the pudding sauce ingredients and cook until thickens.
Pour the sauce on the top of the baked bread.
Serve with desirable sides!
Ingredients :
For the pudding:
2 cups of milk
¼ cup of butter
½ cup of sugar
2 slightly beaten eggs
1 tablespoon vanilla
½ tablespoon of ground nutmeg
4 cups of white bread (about 8 slices)
½ cup of raisins
For the sauce:
½ cup of sugar
½ cup of butter
1 tablespoon of vanilla
½ cup of firmly packed brown sugar
½ cup of heavy whipped cream
Grandma's Old-Fashioned Bread Pudding with Vanilla Sauce
Prep time: 25 minutes
cooking time: 75 minutes
Total time: 100 minutes
Servings: 8 servings
Hope you enjoyed your pudding bread, if so? Leave us a comment down below of how the journey went for you!
Important notes:
Bread pudding keeps up to 2 days in the refrigerator!
Yes! Bread pudding can be served at breakfast! It'll help you lose weight.
To re-heat bread pudding, cover it with foil and cook for 5 to 15 minutes under medium heat. If using a microwave, cook on low for 2 to 10 minutes.
Bread pudding can be served warm or cold.
Bread pudding and bread & butter pudding aren't the same!
Serving Ideas
This recipe can be served along with many sides, you can just cut slices of fruits and make a cocktail, or make for yourself and family big bawls of fresh veggies!
WHAT WINE GOES WITH BREAD PUDDING?
Champagne
Sémillon
Cerdon Du Bugey
HOW TO MAKE IT :  
CLICK NEXT PAGE BELOW TO CONTINUE READING …