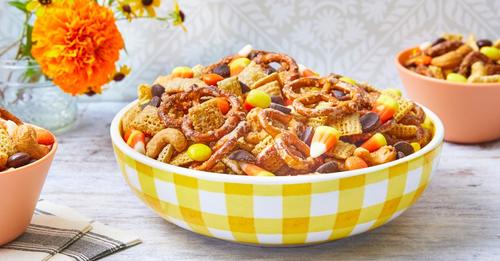 No October party is complete without a festive Halloween appetizer. Let this Halloween Chex Mix recipe be the anchor of the table! It's salty and sweet, has tons of candy mixes, and makes a great batch for a crowd. Add a tray of mummy hot dogs, pumpkin hummus and spider cookies, and your guests won't think twice about their overflowing baskets of candy.
How do you make a Halloween Chex mix from scratch?
There are many different ways to make a really good snack mix. Some recipes call for a sweet coating, while others mix it in white chocolate and coat it with sprinkles. We love the balance of lots of salty ingredients like corn and rice cereal, pretzels and peanuts, coated in a buttery mix of brown sugar and maple syrup. Once baked, the mixture celebrates the roasted flavors of fall. Add your favorite Halloween candy, such as Reese's pieces and candy corn, and then chocolate chips (because every good snack mix needs chocolate).
Can I make this for other holidays?
Absolutely! Use this basic recipe for any party. It's the candy that sets the party mood, so play around with it to fit your occasion. Use white chocolate chips and pastel colored chocolate eggs for Easter. You can also go for a Christmas theme with red and green candies. Need an appetizer for a baby shower? Use pink or blue candies, depending on the gender of the baby (or a mix of both if it's a surprise!) For any occasion, peanut butter minis or peanut M&Ms are great ingredients.
YIELDS :15 c.
PREP TIME :5 mins
TOTAL TIME :1 hr 15 mins
Ingredients
Nonstick cooking spray
3 c. rice Chex cereal
3 c. corn Chex cereal
4 c. mini twist pretzels
2 c. roasted, salted cashews
1 stick salted butter (1/2 cup)
1/2 c. brown sugar
2 tbsp. maple syrup
1 8 to 10-oz. bag peanut butter candies, such as Reese's pieces (about 1 1/2 cups)
1 1/2 c. candy corn
1 c. chocolate chips
Directions
1Preheat the oven to 275°. Line a large baking sheet with parchment paper and spray with nonstick cooking spray. Add the cereals, pretzels, and cashews in a single layer. 
2Place the butter in a medium microwave safe bowl, cover and microwave on high to melt, about 1 minute. Add the brown sugar and maple syrup and whisk well until combined.
3Pour the butter mixture over the cereal mixture and toss gently until evenly coated. Bake for 45 minutes, stirring halfway through. Cool completely on the sheet tray, stirring occasionally. 
4Add the peanut butter candies, candy corn and chocolate chips. Toss gently on the baking sheet. 
5Transfer to a very large serving bowl (or a few smaller bowls). Otherwise, store in an airtight container for up to 1 week.