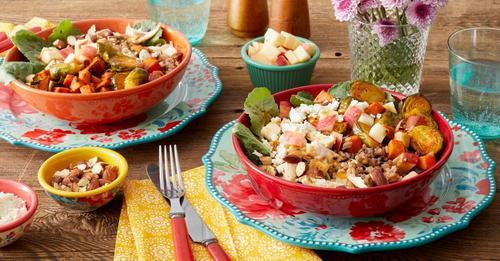 Taking inspiration from the rising trend of lunch options at fast-food joints, these retro-inspired lunch bowls are a delightful way to prepare your meals for the week ahead. Not only does it make for a budget-friendly dining choice, but it also offers a wide canvas for culinary creativity. Think of it as the blueprint for crafting your ultimate healthy lunch – a morning meal that lingers on your mind and tempts you to sneak a taste even at 10 am. With tender chicken, vibrant veggies, hearty grains, and a generous sprinkle of cheese, it's a satisfying, wholesome lunch option you won't want to miss!
What's Inside a Harvest Bowl? This harvest bowl brings together a medley of textures and flavors. Its foundation is a blend of wild rice, lovingly simmered in a flavorful broth. The kale adds a hearty, grain-like touch to your salad experience, while autumn's star players, sweet potatoes, and Brussels sprouts, infuse their sweet, roasted goodness into the mix. Tender chicken, crisp apples, zesty goat cheese, and a scattering of chopped almonds grace the top, and the grand finale is a homemade balsamic vinaigrette that ties everything together.
What Other Ingredients Can You Experiment With? Feel free to get creative with substitutions! Swap out wild rice for brown rice, white rice, farro, quinoa, or couscous, just make sure to follow the package instructions for cooking time and liquid. If kale isn't your thing, try regular chopped kale, spinach, or mixed spring greens. For those who prefer pumpkin and broccoli, substitute sweet potatoes and Brussels sprouts. You can even replace apples with pears, goat cheese with feta, and almonds with walnuts. The possibilities are endless, and the kitchen is your canvas!
Is There Meat in a Harvest Dish? This recipe calls for the convenience of rotisserie chicken, a kitchen hero for busy days. But don't be afraid to get creative with your protein sources. Leftover roast pork, drained and rinsed canned beans, or even some crispy popcorn chicken can step in to provide that essential protein boost.
Yields: 4 servings Preparation Time: 25 minutes Total Time: 1 hour and 25 minutes
Ingredients: For the Bowls:
1 1/2 cups wild rice blend
2 2/3 cups chicken broth
2 tablespoons unsalted butter
1 1/2 teaspoons kosher salt, divided
1 pound Brussels sprouts, trimmed and halved
2 small sweet potatoes, cubed into 1/2-inch pieces
2 tablespoons olive oil
1 teaspoon ground black pepper
1 teaspoon garlic powder
1 teaspoon paprika
1/4 teaspoon cayenne
1 rotisserie chicken, about 2 pounds
2 cups fresh baby kale
1 Honeycrisp apple, cored and cubed
1/2 cup crumbled goat cheese
1/4 cup roasted, salted almonds, roughly chopped
For the Balsamic Vinaigrette:
3 tablespoons balsamic vinegar
2 teaspoons honey
2 teaspoons Dijon mustard
1 garlic clove, grated
1/4 teaspoon kosher salt
1/4 teaspoon ground black pepper
1/3 cup olive oil
Directions:
Preheat your oven to 450°F.
Rinse the rice blend under cold water in a fine mesh sieve, using your hand to agitate it for about 1 minute. In a medium saucepan, combine the rinsed rice with the chicken broth, butter, and 1/2 teaspoon of salt. Bring the mixture to a boil over medium-high heat, then reduce to low, cover, and let it simmer until the rice is tender, approximately 45 minutes. Remove from heat and keep it covered for an additional 15 minutes, then fluff the rice with a fork.
While the rice cooks, line a large baking sheet with foil. Toss the Brussels sprouts and sweet potatoes with olive oil, making sure they're well coated. Sprinkle with the remaining 1 teaspoon of salt, black pepper, garlic powder, paprika, and cayenne, ensuring an even coat. Roast until the veggies are tender and nicely browned, about 25 minutes, stirring midway through.
For the balsamic vinaigrette, combine balsamic vinegar, honey, Dijon mustard, grated garlic, salt, and black pepper in a mason jar. Secure the lid and shake vigorously until all ingredients are well blended, approximately 15 seconds. Add olive oil and shake the closed jar again until the dressing is fully emulsified. Store it in the refrigerator and give it a good shake before using.
Remove the skin and bones from the rotisserie chicken. You can shred or cube the meat as you prefer.
To serve, distribute the baby kale evenly among four bowls. Add a scoop of the cooked wild rice and distribute the roasted Brussels sprouts, sweet potatoes, chicken, apple, goat cheese, and chopped almonds. Drizzle with the prepared balsamic vinaigrette. Enjoy your unique and wholesome harvest bowl creation!
SOURCE of the picture: the pioneer woman