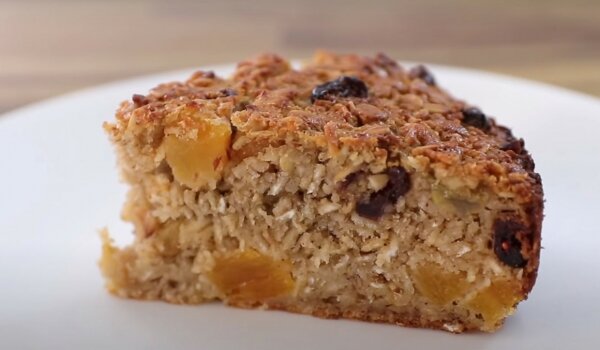 Preparation : 20 min.
Cooking : 40 min.
Тotal : 60 min.
Servings : 6
"Delicious dessert in no time – oatmeal cake, which is not only delicious, but also healthy, because it is made without flour and it is sugar-free!"
INGREDIENTS
oatmeal – 10.5 oz (300 g)
honey – 6 oz (170 g)
milk – 9 fl oz (270 ml)
eggs – 2 pcs.
vanilla extract – 1 1/2 tsp.
coconut oil – 1.4 oz (40 g)
baking powder – 1 tsp.
salt – 1/4 tsp.
cinnamon – 1 tsp.
dried blueberries – 1.8 oz (50 g)
raisins – 1.8 oz (50 g)
dried apricots – 1.8 oz (50 g)
butter – for greasing
HOW TO COOK
In a large bowl, pour all of the dry ingredients and set it aside.
In a separate bowl, mix all of the liquid ingredients.
Pour the liquid mixture over the dry ingredients and stir, until a smooth mixture is obtained.
Leave it for 15-20 minutes to absorb the liquid.
Preheat the oven to 360°F (180°C), prepare a round baking pan, place baking paper on the bottom and grease it with butter.
Pour the cake mixture into the baking pan and bake the healthy cake for 35-40 minutes or until it aquires a golden brown color.
Leave the healthy oatmeal cake to cool on a wire rack for 10 minutes.