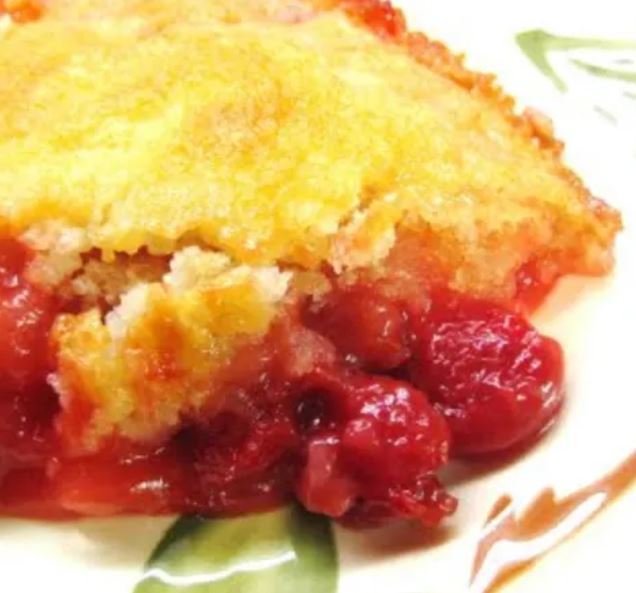 Had a request for the Fresh Cherry Cobbler too.
This is ofcourse like my peach cobbler…yum yum
It's hard to deside just which I like best (I lean a bit to the Cherry side).
I used to make these kinds of cobblers all the time in huge quanities when I cooked at the Senior Citizen Center and for Meals on Wheels…made them both ways. Made some with sugar and some with splenda as we had a lot of diabetics and they loved cobbler too.
They would get so tired of having Vanilla Wafers, Fruit Cups…etc.
So I tried my best to revamp a lot of desserts for them to be able to eat too.
THEN, would you believe, I was diagnosed with diabetes myself.
I was soooo bumbed out, because my Hubby is the "Sweetaholic" not me!!!
I always watched what I ate and thought I was eating healthy.
I didn't even have anyone in my family (that I kenw of) that had ever had diabetes.
Doctor said, "sometimes it just happens"
Ingredients
1/2 cbutter
1 call-purpose flour
1 csplenda (or white sugar)
1 tspbaking powder
1 cmilk
2 cpitted sour cherries
3/4 csplenda (or white sugar)
1 Tbspall-purpose flour (or corn starch)
·ice cream and or whipped cream (optional)
How to Make Here's the "FRESH CHERRY COBBLER"
Preheat oven to 350F.
Melt butter in 9×13 casserole dish in oven (or microwave), until completely melted (about 5 min in oven).
Combine 1 cup flour, 1 cup sugar & baking powder in small bowl, mix well.
CLICK NEXT PAGE BELOW TO CONTINUE READING …