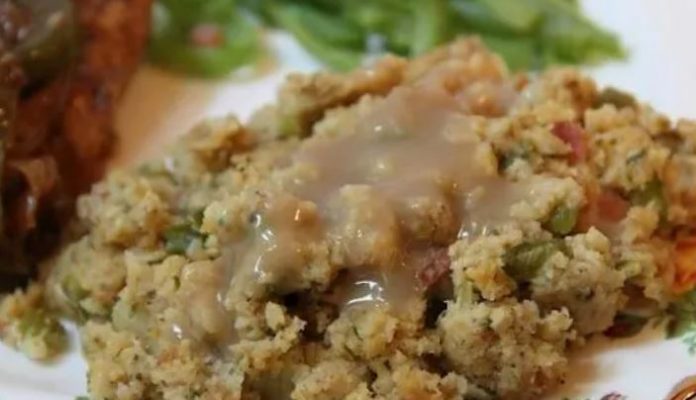 This is my children's Mimi's recipe that she passed down to me. It has served us well for 30 years, each and every Thanksgiving and Christmas. Thank you, Elnora. You are missed.
Serves: 10 to 12 
Prep: 30 Min
 Cook: 45 Min
Method: Bake
Ingredients :
2 cchopped celery
2 lgonions, chopped
5 ccrumbled buttermilk cornbread (dry)
5 cdry bread crumbs
1 1/2 tsppoultry seasoning
3 tspsage or to taste
1 tspsalt or to taste
1 tsppepper or to taste
1 stickmargarine
1 stickbutter
4 lgeggs, beaten
6 cturkey or chicken broth
How to Make Holiday Cornbread Dressing
Preheat oven to 325 degrees.
Spray a large baking pan with Pam.
In a large mixing bowl, combine the crumbled cornbread, bread crumbs, chopped celery, chopped onions, and seasoning. Mix together.
Add melted butter, melted margarine, and beaten eggs. Mix well.
Add chicken/turkey broth. The dressing should be pretty soupy to start so that it doesn't get too dry while cooking. You may need to add more broth.
Transfer to the prepared baking pan.
Bake, covered, for 35 minutes and uncovered for 10 minutes until browned or until well set and cooked through.
About Holiday Cornbread Dressing
Course/Dish: Other Side Dishes
Main Ingredient: Bread
Regional Style: Southern
Other Tag: Heirloom
Hashtags: #cornbread#dressing