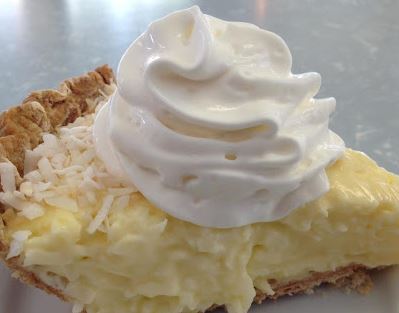 This coconut cream pie recipe was my husband's great grandmother
Be prepared to have no leftovers when you serve this fantastic coconut cream pie. It's light, fluffy, and super creamy. Perfect for a holiday dessert but easy enough to serve when company is coming for dinner. We opted to lightly toast the coconut and highly suggest taking the extra step. So good!
SERVES 6-8
PREP TIME 20 Min
COOK TIME 1 Hr 10 Min
METHOD Stove Top
Ingredients :
1 cmilk
1 csweetened, flaked coconut
1 clight cream
1/2 csugar
2 Tbspcorn starch
2eggs, separated
1 tspvanilla
1pre-made pie crust
8 ozwhipped cream
How To Make :
1-Bake pie crust according to directions on package and cool completely.
2-Place milk and light cream in a double boiler. If you can't find light cream, combine 3 Tbsp melted butter (room temperature) and 1 scant cup of whole milk.
3-Add sugar and bring to a boil.
4-Add 2 Tbsp cold water to corn starch. Stir well.
5-In a bowl beat egg yolks until they are light.
6-Add the corn starch mixture to the yolks. Mix well.
7-Add egg mixture to the milk mixture in the double boiler. Cook for 5 minutes, stirring constantly.
8-Remove from heat. Add vanilla and coconut.
9-Stir. Let stand 30 minutes.
10-Pour into prepared crust.
11-Cover with plastic wrap and chill 30 minutes or until set.
12-Remove plastic wrap. Cover with whipped cream and coconut flakes (toasted optional).