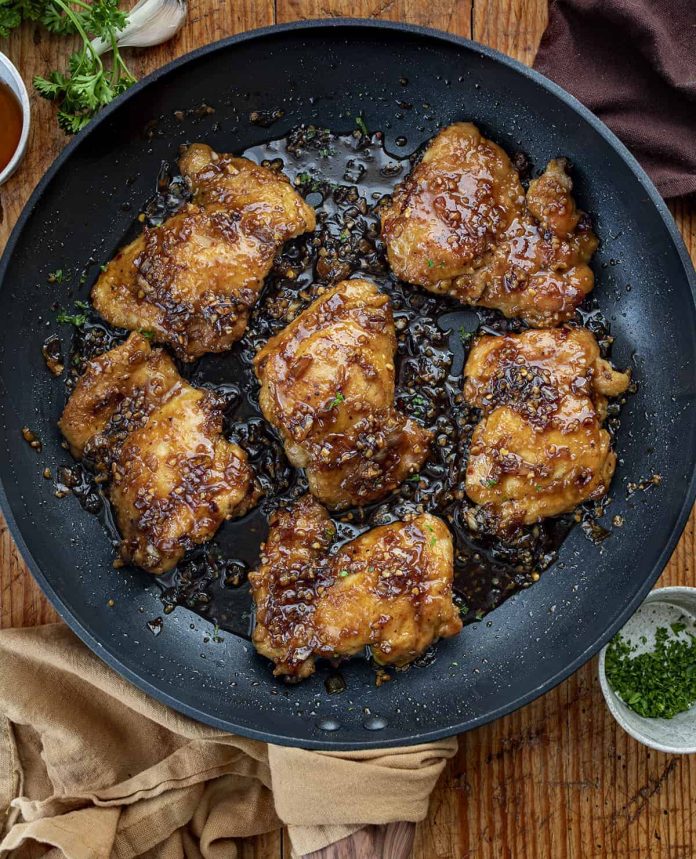 Honey Garlic Chicken Thighs are perfectly seasoned boneless, skinless chicken thighs with a sweet and spicy honey garlic glaze.
Honey Garlic Chicken Thighs
This dish is so flavorful and delicious you might think it would take a while to make, but it only takes about 30 minutes and is perfect for a weekend meal. The honey garlic glaze balances the sweet and spicy flavors. Serve with rice and roasted vegetables.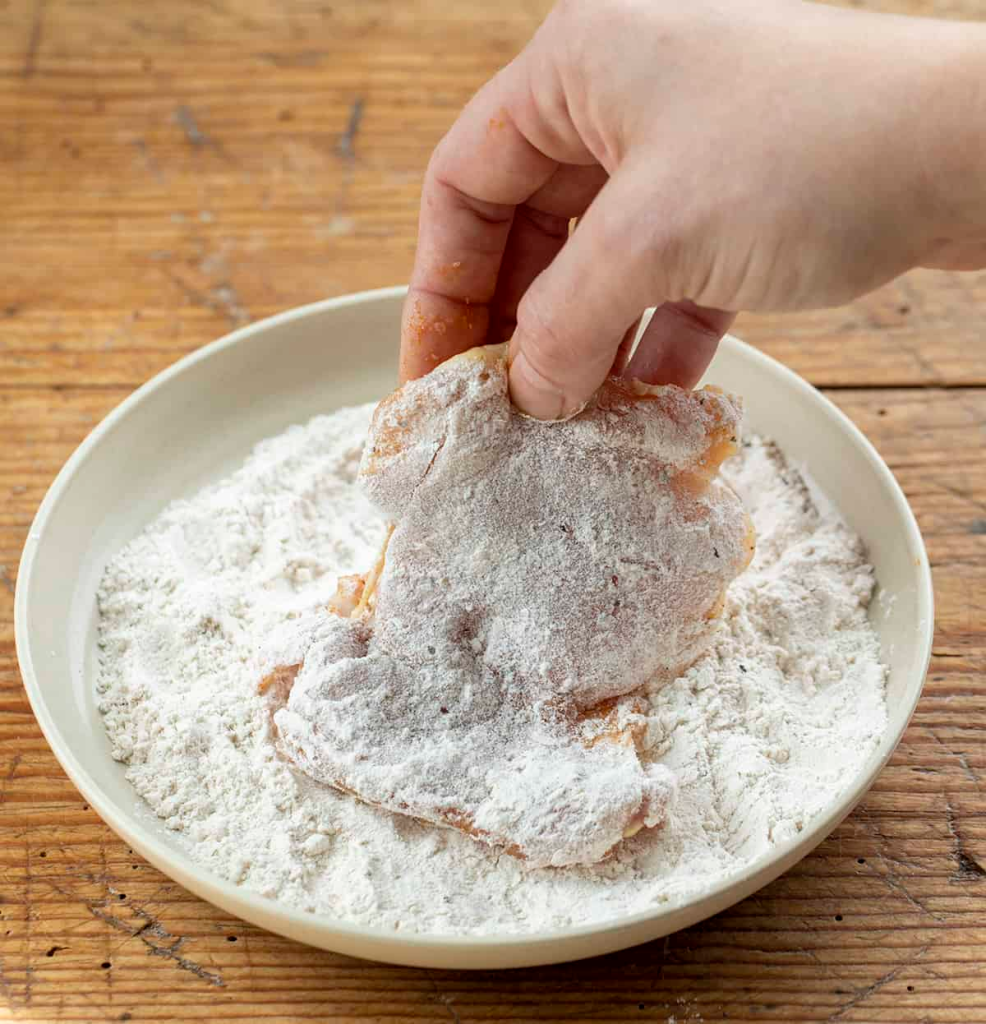 Ingredients for Honey Garlic Chicken Thighs
Chicken thighs. I used thighs in this recipe because I love how soft and moist they are. However, you can substitute breast meat if you prefer.
Garlic: I used a fair amount of garlic because it's in the name.
White Wine Vinegar: I used white wine vinegar in this recipe because its acidity complements the sweet honey perfectly.
Red pepper flakes. Crushed red pepper flakes give a spicy flavor to this dish. I used a half teaspoon in this recipe, but you can adjust it to your liking.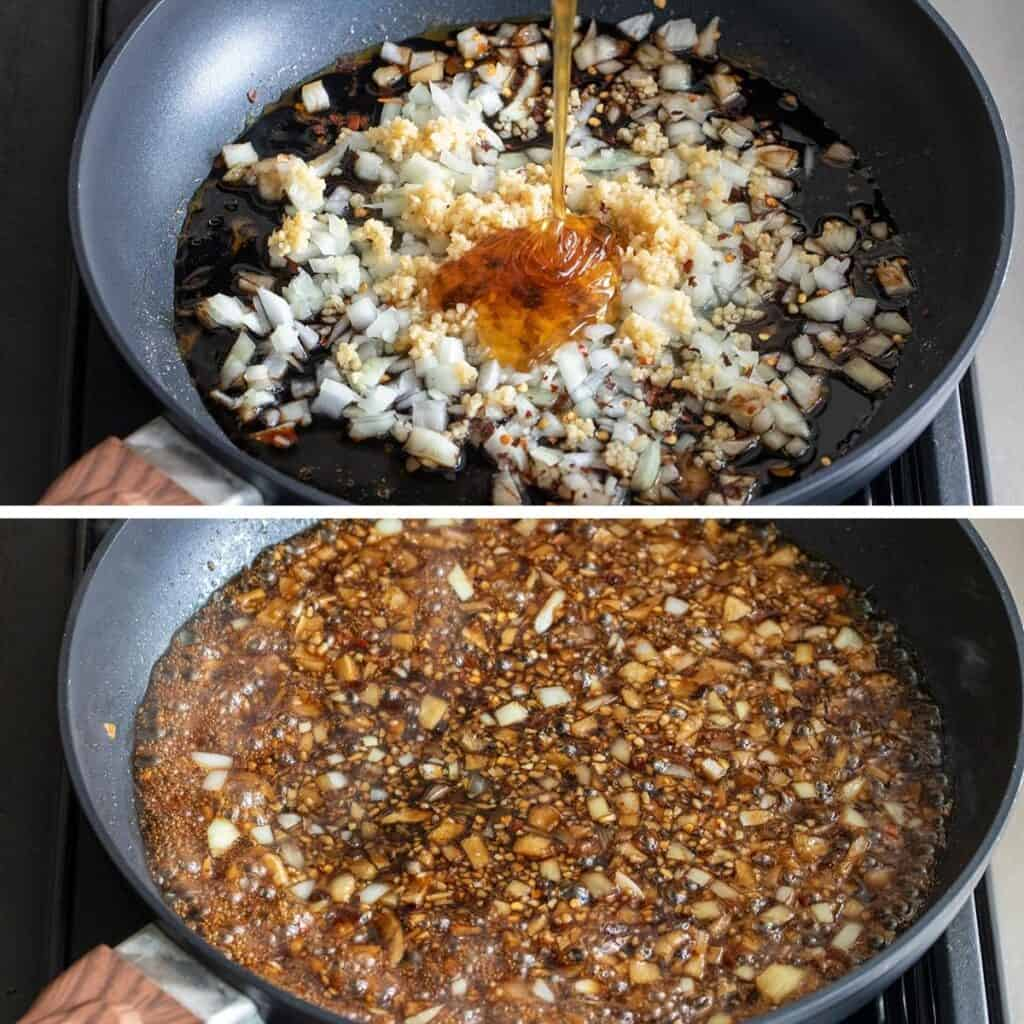 Can I use chicken breasts?
Absolutely. I prefer boneless, skinless thighs, but boneless, skinless breasts can easily be substituted without much change in cooking time or flavor.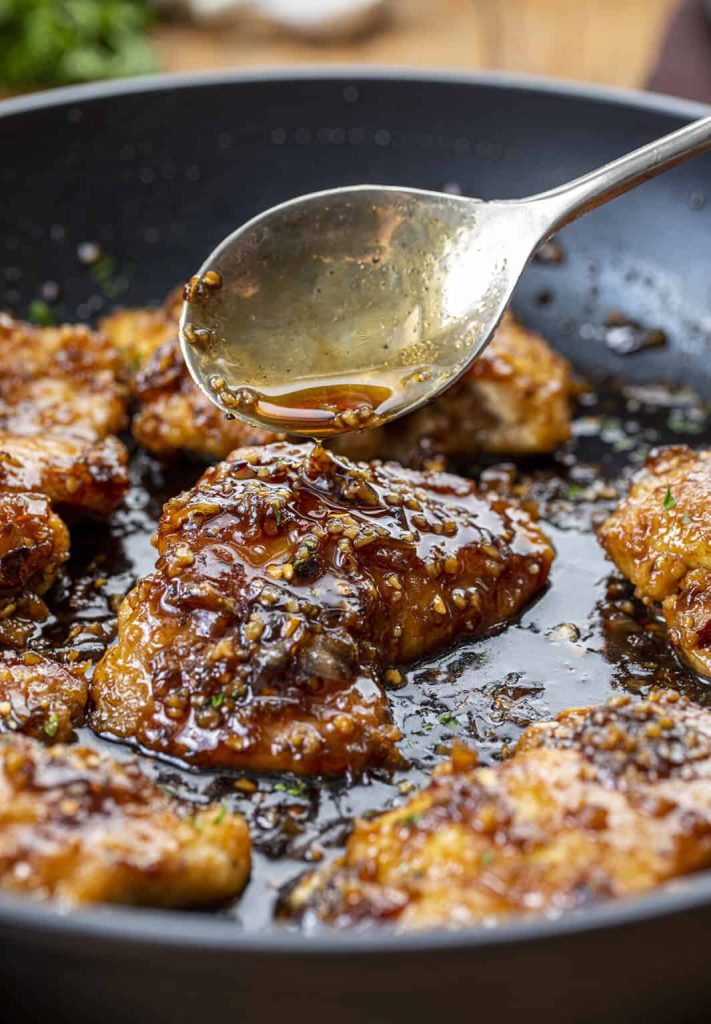 How thick should the sauce be?
The sauce for this dish is quite thick and should be able to be spread with the back of a spoon. If you are not satisfied with the thickness of the glaze, it can easily be thickened or thinned.
Mix 1 tablespoon of cornstarch with 2 tablespoons of water to form a slurry. Stir this slurry into the glaze to thicken it. Conversely, if you think the glaze is too thick, add a small amount of water at a time until the desired consistency is reached.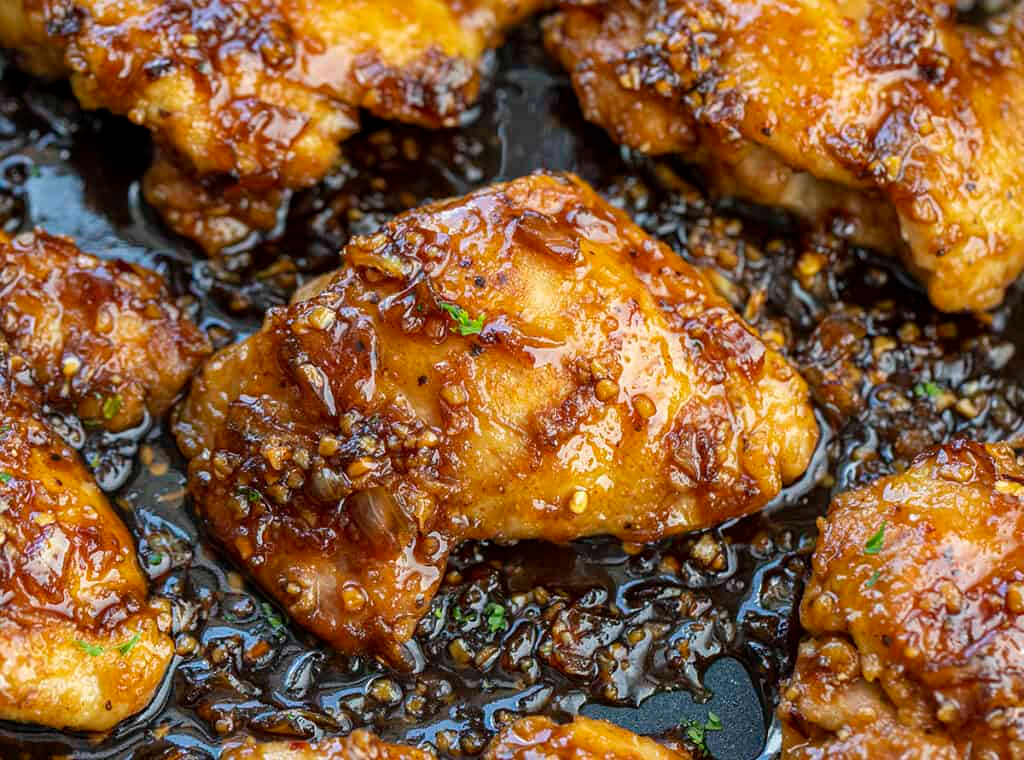 What if I don't have white wine vinegar?
It is best to use red wine vinegar or rice vinegar instead. Vinegar has a tart flavor that is very balanced with the flavor of the sauce, so removing the white wine vinegar may change the flavor.
Can I use gluten-free flour?
Yes, you can – just substitute a 1:1 ratio of gluten-free flour, such as Bob's Red Mill. I have heard that you can also use rice flour (unconfirmed).
How do I store Honey Garlic Chicken Thighs?
This recipe is best served hot and fresh, but leftovers can be stored in an airtight container in the refrigerator for up to three days.
Honey Garlic Chicken Thighs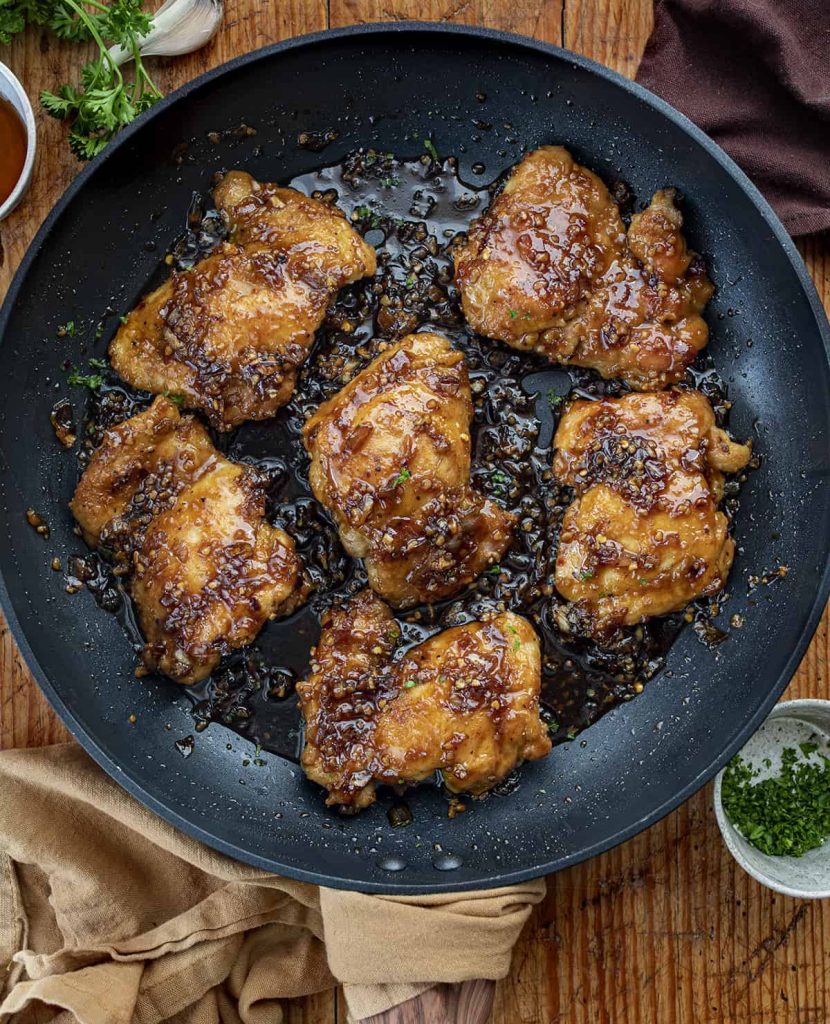 Preparation time 15 minutes
Cooking time 15 minutes
Total time is 30 minutes.

This dish is perfectly seasoned boneless, skinless chicken thighs with a sweet and spicy honey-garlic glaze.
Ingredients
Chicken
6 boneless skinless chicken thighs
1 teaspoon garlic powder
1 teaspoon onion powder
1 teaspoon paprika
1 teaspoon kosher salt
½ teaspoon black pepper
½ cup all-purpose flour
2 tablespoons olive oil
Sauce
½ cup (170g) honey
2 tablespoons soy sauce
3 tablespoons garlic, minced
½ cup yellow onion, finely diced
2 tablespoons white wine vinegar
½ teaspoon red pepper flakes
Instructions
Chicken
Preheat oven to 375°F. Line a large baking sheet with parchment paper.
In a small bowl, whisk together garlic powder, onion powder, paprika, salt, and pepper. Divide this seasoning mixture in half.
Using one half of the seasoning mixture, evenly coat all sides of the chicken thighs.
To the remaining half of the seasoning mixture, add the flour and whisk together.
Dredge each chicken thigh in the flour mixture, shaking off any excess flour, and set aside.
Heat oil in a large skillet over medium-high heat. Sear the chicken for about 4-6 minutes per side. (The chicken will not be fully cooked at this point.)
Transfer chicken to the prepared baking sheet. (You will use the skillet to make the glaze.) Bake for 10-15 minutes, or until the internal temperature reaches 165°F.
While the chicken is baking, prepare the glaze.
Sauce
To the same skillet over medium-high heat, add honey, soy sauce, garlic, onion, vinegar, and red pepper flakes. Stir to combine.
Bring mixture to a boil, and then reduce temperature to medium heat. Simmer for about 10-15 minutes, or until thickened.
Add cooked chicken back into the skillet and toss to coat.
Serve hot with rice, pasta, or vegetables.
Nutrition
Course: Dinner, Main Course
Keyword: Honey Garlic Chicken Thighs
Servings: 6
Calories: 386