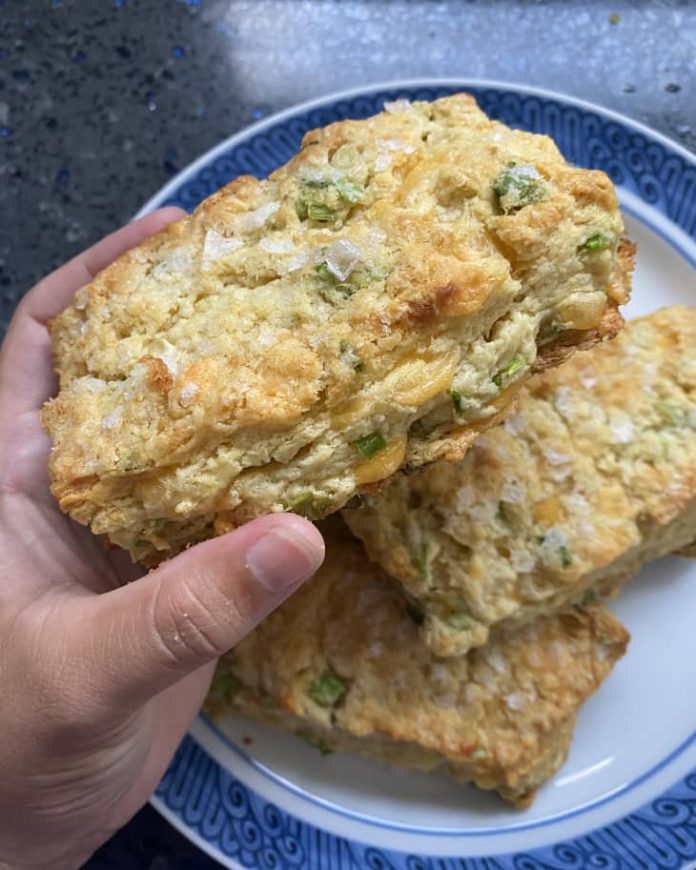 Mei Lin, renowned as the victor of Top Chef Season 12, currently finds herself in the bustling streets of Los Angeles, masterfully concocting XO Sauce and Szechuan Spicy Chicken. Amidst her culinary adventures, Mei can't help but feel a pang of nostalgia for the illustrious Angel Biscuits from Gramercy Tavern, a delightful hybrid of the classic biscuit and Parker House rolls. Driven by her passion, she set out to recreate this iconic treat, birthing the Cheddar Parsnip Biscuit – a delightful cookie embodying all her favorite elements: a tender texture, a rich buttery flavor, and an impressive height. Mei generously shared this cherished recipe on her Instagram platform, complete with a captivating step-by-step story, and it remains nestled in her list of favorites.
Should you wish to convert the dry ingredient measurements from grams to teaspoons or cups, Mei has graciously provided her estimated conversions below. While not exact, these conversions have proven reliable over time.
Once you've assembled your ingredients
300 grams all-purpose flour ≈ about 2 cups
15 grams baking powder ≈ 3/4 teaspoon
10 grams baking soda ≈ 1 3/4 teaspoons
10 grams granulated sugar ≈ 2 teaspoons
5 grams kosher salt ≈ 1 teaspoon
50 grams sliced shallots
170 grams unsalted butter, grated (frozen) ≈ about 1 3/4 sticks
100 grams grated cheddar cheese (frozen) ≈ 1 cup
170 grams buttermilk ≈ just under 3/4 cup
To embark on your own culinary journey of Mei Lin's Cheddar Scallion Biscuits, heed the following guidance:
Accurate Weighing: Mei emphasizes the importance of using a digital scale for precise measurements, a game-changer in both baking and cooking. Investing in one can yield consistently scrumptious baked goods. In the absence of an electronic scale, the conversions Mei provided can be your reliable guide.
Chill the Dough: Chilling the dough is paramount to achieving those coveted flaky biscuits. Low temperatures ensure the butter forms delicate layers during lamination. To prepare, freeze the butter and cheese the night before baking, while the buttermilk should be kept in the refrigerator. Once ready, allow the dough to rest in the freezer for 30 minutes before baking. Mei recommends using a scraper to prevent direct contact with the dough.
Fold with Precision: Creating layers is the key to flaky biscuits. Mei advises folding the dough at least six times to build those enticing layers. This technique is responsible for the delicate, peelable layers of croissants and the distinctive texture of the biscuits even in their raw state. A fold technically consists of two actions: fold one end downward, then repeat from the other side. Do this five more times for those coveted biscuit layers.
Waste Not: After you've shaped your biscuits, don't discard the scraps! Mei encourages creativity – if you prefer smaller treats, shape the scraps into even smaller biscuits, perfect for crafting charming breakfast sandwiches.
Customize Your Creation: If you desire a personal touch, take a cue from Chef Mei herself and add bacon and Chinese sausage to elevate your Cheddar Scallion Biscuits to new heights of flavor.
source photo : the kitchn