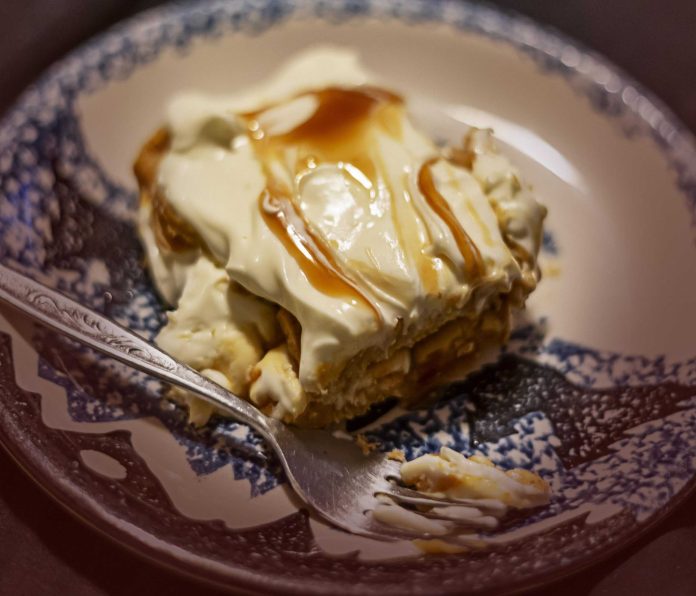 Have you ever heard of the term "dessert lasagna" before? If not, you're in for a real treat (quite literally). Dessert lasagna is essentially any type of layered dessert, and is constructed similarly to lasagna. When it comes to my preferred dessert type, it's the more layers, the better. And the dessert recipe we're about to share with you is no exception to this rule!
Key Ingredient created a recipe for Pumpkin Cheesecake Lasagna that's truly as decadent and delicious as it sounds. Cream cheese, graham crackers, pumpkin pudding, whipped cream, caramel drizzle, and crushed pecans come together to create the most perfect pumpkin recipe in existence.
INGREDIENTS
1 (8-ounce) package cream cheese, softened
1/4 cup sugar
2 cups heavy cream, divided
2 cups milk
3 small packages vanilla pudding mix
1 cup pumpkin puree
1 teaspoon pumpkin pie spice
3 tablespoons powdered sugar
10 graham cracker sheets
1/4 cup jarred caramel
Pecans, for garnish
PREPARATION
STEP 1
In the bowl of an electric mixer, beat cream cheese and ¼ cup sugar until light and fluffy, about 2 minutes. Slowly add in 1 1/2 cups heavy cream and beat until stiff peaks form.

In another medium bowl, beat milk, pudding mix, pumpkin, and pumpkin pie spice until well-mixed and thick. (Start with 1 1/2 cups milk and beat until it's the consistency of a pudding—if it's too thick, continue to add the rest of the milk.)

Make sweetened whipped cream by beating the remaining heavy cream with the powdered sugar until soft peaks form.

Layer lasagna: Spread a thin layer of cream cheese mixture in a 9″-x-13″ baking dish. Top with a layer of graham crackers. Add half the pudding mixture and top with a layer of half the cream cheese mixture. Drizzle with caramel and repeat. Finish with a layer of sweetened whipped cream.

Cover loosely with plastic wrap and refrigerate at least 4 hours and up to overnight.

Drizzle with caramel and garnish with pecans before serving.
The best part about this wonderful dessert recipe is that although it looks complicated, it's actually quite simple to make. Bring this dish to Thanksgiving, a holiday potluck, or any other event, and you're bound to be the most-liked person at the party!
Thanks so much for sharing this mouthwatering dessert recipe