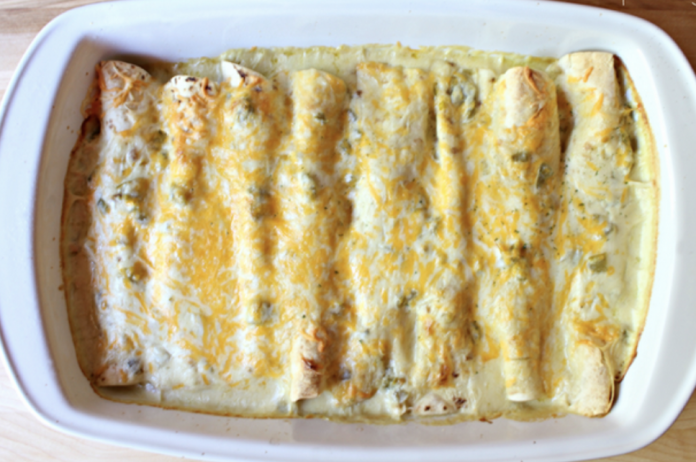 Do you believe in love at first sight? Well, I do now right after I saw white chicken enchiladas. The first interaction between me and this wonderful dish was at my friend's house, before lunch she asked me and her husband what do we want to have for lunch and he started yelling white chicken enchiladas and told me that I have to try it, I said why not and OH BOY! I thank him for that scene he caused because it was a wonderful dish. Thank God my friend is generous and she gave me the recipe to share with you guys.
First, you will need:
Ingredients
2

 

cups

 

of chicken broth

2

 

cups

 

shredded chicken

 

about 1 big chicken breast

2

 

cups

 of 

shredded Monterey Jack cheddar cheese

1

 

cup

 of 

sour cream

1 to 4

 

ounce

 

can of diced green chiles

3

 

tablespoons

 of 

flour

3

 

tablespoons

 of 

butter

Salt and pepper

8

 

flour tortillas

 

softshell
Instructions
Preheat the over to 425 degrees
Shred the chicken breast and mix it with a cup of shredded cheese
Lay and fill 8 tortillas with the chicken and cheese blend, then roll them tightly before putting them in a 9×13 greased baking dish.
Melt the butter and add in the flour in a saucepan, then mix and cook them for a minute.
Add the chicken broth and start whisking until it becomes smooth and consistent, then whisk over medium heat until it becomes creamy and thick.
Add in the sour cream, salt, chiles, pepper, and start mixing
Pour the obtained sauce on the rolled tortillas evenly
Add the cheddar cheese on top
Bake for 25 minutes (or until the cheese's color turns golden brown), then add cilantro or salsa.
Serve, eat, enjoy.